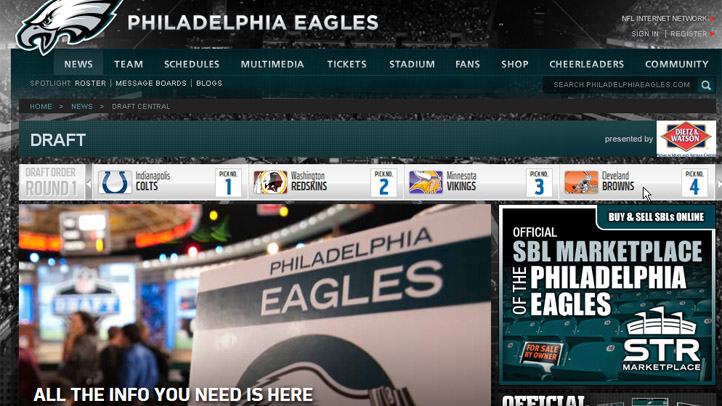 What do the Eagles plan on doing when the NFL Draft begins Thursday night?
Your guess is as good as mine.
One thing is certain though, PhiladelphiaEagles.com will be all over covering the next big pick the Birds make.
Some of the folks from PhiladelphiaEagles.com held court at the Apple Store earlier this week as part of Tech Week Philly.
The goal of the session was to give the Birds web folks a chance to "showcase its daily, live web-only video series, social media strategy and how it measures and meets online metrics of success like engagement, sponsorship pageviews and merchandising click-thru."
Basically they laid out how they use the web to expand the Eagles' brand.
A big chance for the Birds website, which is all over everything Birds except for actual games (because of broadcast agreements), to use the web to expand their brand is Thursday night when the NFL Draft kicks off.
The folks at Birds.com (my own short form name for PhiladelphiaEagles.com) have built out an entire section just for the Draft that will feature live videos starting at 6:30 with the team's Draft Party and continuing at 8 p.m. with live Draft coverage.
Once the Eagles pick -- at 15th overall or earlier… or later -- the folks at Birds.com say they have a plan in place to get the first interview with the newest Eagle. The plan is basically getting ERock, the Eagles Television Network fan reporter, to track down the guy the Eagles pick before anyone else.
Check back with the Birds' website and our own Birds Nest all night for the latest on the NFL Draft.