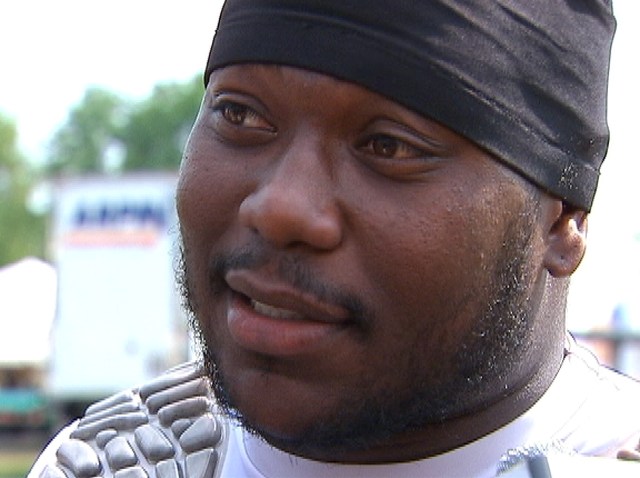 Eagles Pro Bowl fullback Leonard Weaver left the team's opener after suffering a gruesome knee injury.
The 27-year-old's left knee bent backwards on his first run of the season when Packers nose tackle B.J. Raji pushed Weaver into linebacker Nick Barnett early in the second quarter.
Click here to see the injury but be warned it's tough video to watch.
The initial report was that Weaver suffered a left knee sprain. Replays would make you believe that the damage was much worse.
NBC Philadelphia's John Clark confirmed fans worst fears on his Twitter feed:
"Leonard Weaver torn ACL."
Weaver -- and center Jamaal Jackson -- will get an MRI Monday to confirm the injury, the coach Andy Reid said.
The Eagles lose a good amount of offense with Weaver out. He had a career-high 323 yards rushing, 140 yards receiving and four scores last season.
Weaver's injury left the already thin backfield even thinner as backup running back Eldra Buckley filled in at fullback.
In case you were wondering Weaver gained no yards on the play.
He wasn't the only Bird to go down to injury in the first half. Jackson, linebacker Stewart Bradley and quarterback Kevin Kolb were also helped off the field. Kolb was hurt when he was driven into the ground after being sacked from behind by Clay Matthews. Michael Vick came in to replace Kolb under center.
Bradley and Kolb both returned before the end of the half. But both players didn't return for the second half with what were described as concussions.
J-Jackson was lost to a torn right bicep muscle, said Clark.
Eagles starting left tackle Jason Peters was the fifth starter to go down to injury. The 340-pounder left the game in the third quarter with a sprained right knee and was replaced by King Dunlap. But, Peters returned early in the fourth quarter.