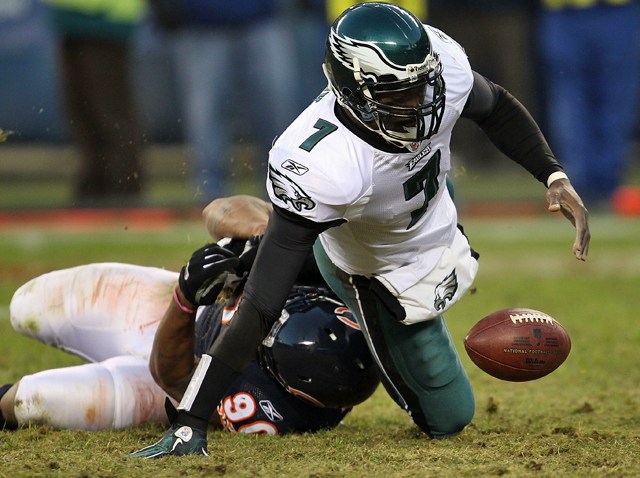 The Eagles offense stalled in all but one trip into the Bears red zone Sunday as the Birds fell 31-26 in the Windy City.
The Eagles defense was definitely the main culprit in the loss as they allowed the anemic Bears offense to put up 349 net yards including 117 yards from RB Matt Forte and four TD passes from Jay Cutler.
But Michael Vick's offense carries a good amount of blame despite putting up an impressive 398 net yards.
The reason for blaming Vick? Ineffectiveness in the red zone.
The Eagles were a pitiful 1-for-5 inside the Bears 20 -- scoring one TD, settling for three field goals and one painful turnover.
Vick was unable to thread passes into his receivers once the Eagles closed in on the end zone. His height -- or lack thereof -- could be part of the problem. A taller QB wouldn't necessarily have had the pass tipped that resulted in Vick's first INT of the season that changed things from the Eagles likely leading going into halftime to trailing by a score instead.
Like I said the red zone was key Sunday and the blame rested on more than just Vick's shoulders. On the other side of the ball the Bears went 3-for-4 in the red zone. The Eagles D is giving up touchdowns about 80 percent of the time when other teams enter the red zone, tweeted Birds Nest's John Clark.
The loss dropped the 7-4 Birds back into a first-place tie with the Giants in the NFC East.
The guys in green better not dwell on this loss for long because they take on the Texans at the Linc on Thursday night.
"It's going to be tough to put this one on the backburner," Vick said. "We have to do it."
At least Texans star wideout Andre Johnson could be suspended after he went all MMA on the Titans Cortland Finnegan Sunday.