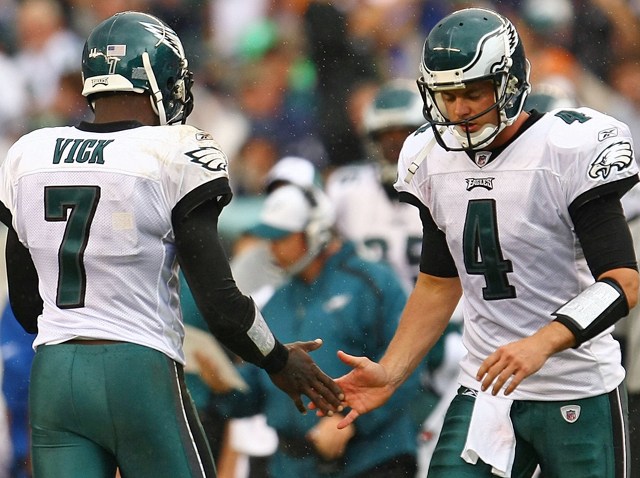 Hobbled Eagles QB Michael Vick left the Vikings game beaten and battered and it looks like a quad injury -- as well as the Birds finale against Dallas being meaningless to playoff positioning -- could force Vick from behind center to the bench Sunday.
Vick didn't hit the practice field with his teammates since the Eagles demoralizing 24-14 loss to the Vikings Tuesday night.
Instead, opening day starter Kevin Kolb took snaps with the first teamers and, according to the Inquirer's Birds' Eye View, will get the start against the Cowboys:
Kevin Kolb will start against the Cowboys Sunday, according to team sources.

Publicly, the team wouldn't commit, but Kolb said he took the first team repetitions in the morning walk through. With only two days of practice before Sunday's game, that's a pretty good indication that Kolb will be starting in place of Michael Vick, who has a bruised quad and could probably use the rest.

"I'm just preparing like I'm going to be (starting) and that way I'm ready to go if that's what's called," Kolb said.
Sure sounds like Kolb thinks he's starting. And with the Cowboys game meaning little, the Eagles having missed out on the bye week and with Dallas looking to start third-stringer Stephen McGee, the chances of Vick playing are about as likely as Snooki being elected to Congress.
But, like the BEV guys stated, the team still won't commit to Vick sitting out -- possibly to keep Dallas coaches on edge worrying about how to stop a Vick-led offense.
Two guys who definitely won't be on the field Sunday are recently welcomed-back-than-dispatched-again DE Derrick Burgess and DT Jeff Owens.
Burgess was released to make room for veteran DE Bobby McCray who played four seasons with the Jags and two with the Saints before being released by New Orleans during final roster cut downs in September.
Owens, a rookie, was placed on Injured Reserve after blowing out his knee in his first game of the season. Journeyman DT Jeremy Clark, a former member of the Eagles practice squad, was signed to replace Owens.
Other Eagles who might also not play Sunday include WR DeSean Jackson and CB Asante Samuel -- both players sat out of practice Thursday.