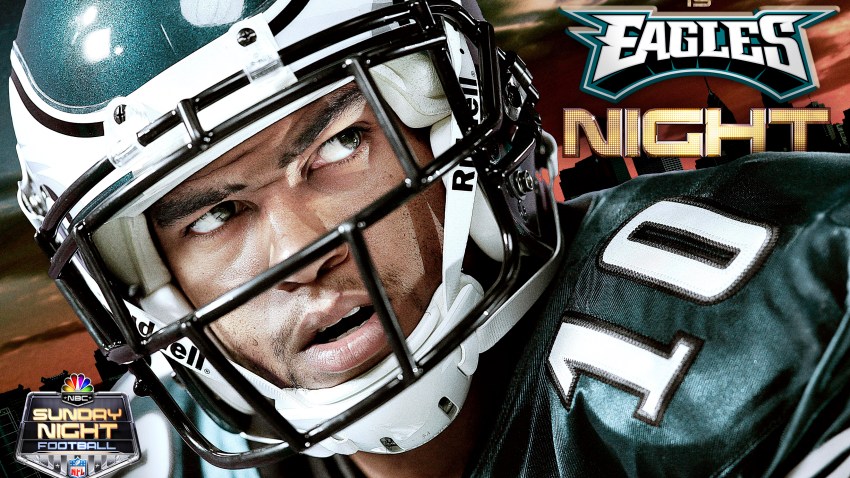 The first week of the NFL season is barely behind us but as fantasy football players fret over Week 1 injuries (Nate Kaeding, Arian Foster, Steven Jackson, Peyton Manning, Danny Amendola, etc.) the folks at NBC are already looking towards next week.
"Sunday Night Is Eagles Night."
Just look at this menacing photo of Eagles underpaid wideout DeSean Jackson. He sure looks ready for the Sunday matchup against the Falcons.
But even though DeSean is featured in this ad, the game is really about Michael Vick returning to Atlanta as a starter for the first time. He shined (two TDs -- one rushing, one passing) in a reserve role back in his wildcat days in 2009 but this time he is the main draw in the Georgia Dome Sunday at 8:20 p.m. on NBC. (Yes that was a shameless plug.)
But leading up to the game the talk right now seems to be focused on food -- specifically Philly cuisine versus Atlanta fare. The Sunday Night Football folks have pitted our beloved cheesesteak up against Hotlanta's chicken and waffles in a Facebook "Food Fight."
You can help Philly come out on top in this battle by "liking" the cheesesteak photo.
Also feel free to like the great photo shoot shots they got of Vick, Jeremy Maclin, Jason Avant and Shady McCoy.
As for which team will come out on top in the game? Check back with Birds Nest all week for the analysis and picks.