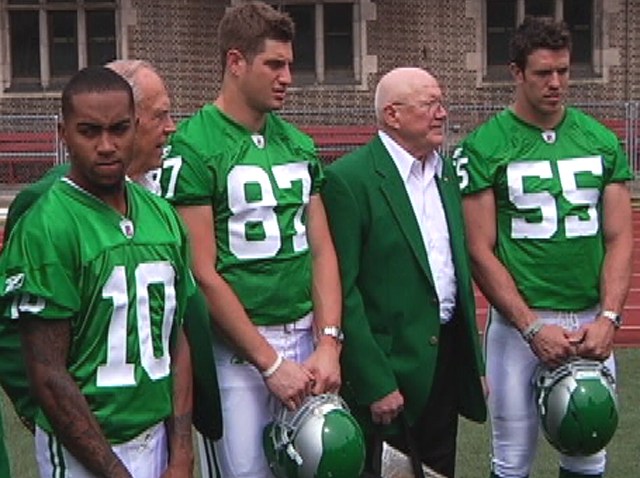 The Eagles unveiled their throwback kelly green jerseys Monday at a ceremony on Franklin Field.
Why bring back the old green on the old home field of the Birds?
To celebrate the 50th anniversary of the last Eagles championship team.
That's right it's been 50 years since the "gold standard" of the National Football League last won the NFL's championship. Led by Hall of Famers Chuck Bednarik, Tommy McDonald and Norm Van Brocklin, the 1960 Birds beat Vince Lombardi's Green Bay Packers 17-13 at Franklin Field on the day after Christmas.
A new flock of Birds will be putting on the old kelly green and white of the Birds of yore when the Packers return to town on Sept. 12 to open the 2010 season.
Wideout DeSean Jackson, tight end Brent Celek and linebacker Stewart Bradley were on hand to show of the old-school garb.
The current Birds looked great -- maybe this will be the first step in the Birds going back to the kelly green unis they wore until 1996. Or, maybe its just another way to sell another Eagles jersey.
Heck, the Birds were basically immediately shilling the throwbacks on their website, pointed out Crossing Broad.
But that doesn't mean fans are receptive to the old green.
The move back to kelly green should be a permanent, according to Shutdown Corner.
And the Inky's John Gonzalez even called the team playing only one game in the old unis a "tease."
What do you think?