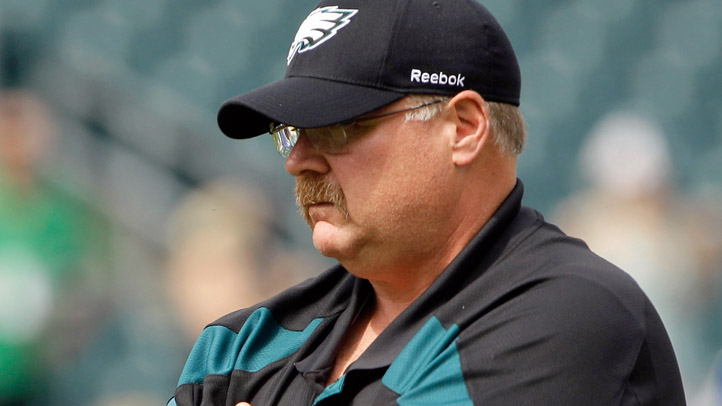 The Eagles open the preseason Thursday night as the Steelers make the trip across the Keystone State to face the Birds at 7:30 p.m.
Normally the preseason opener doesn't carry with it much more drama than how many fans will actually show up for a meaningless game and checking out some rookies. But this game is different as Andy Reid returns to the field just two days after he buried his son Garrett who died Sunday at Lehigh.
With the extra drama in mind, here are five things to watch:
1. How will the fans honor Reid?
The players will wear a "GR" patch in memory of Garrett Reid and a moment of silence will be held in the Linc but it will be interesting to see how Eagles fans show their support towards Andy Reid.
2. How will Reid acknowledge the fans?
I wouldn't be surprised to see Andy Reid tip his hat to the fans or take a moment to acknowledge their support.
3. How will Michal Vick look?
OK, to football items. Vick is the key to the Eagles success – where their quarterback goes so will the Eagles. Vick likely won't play much but in that time it will be interesting to see if he finally takes it easy and slides or throws the ball away.
4. Who will see time on the D-Line?
With starting defensive ends Trent Cole and Jason Babin on the mend the line battle should start with the first defensive snap. Rookies Vinny Curry and Monte Taylor should be seeing plenty of snaps as they push guys like Darryl Tapp, Phillip Hunt and Brandon Graham in one of the more interesting roster battles.
5. How many fans will show up?
Seriously it's still preseason football and it's August hot out so I don't expect more than 75 percent of the Linc seats to be filled at any given time. By halftime expect to be able to make out much of the Eagles logo painted onto the upper deck seats as fans call it an early night.
---
Fan, follow and download: Get the latest from NBC10.com anytime, anywhere. Follow us on Twitter, Facebook, our mobile site and NBC Philadelphia. Sign up for our breaking news newsletter. And, get breaking news delivered right to your mobile phone -- just text PHIBREAKING to 639710 to sign up. (Message and data rates may apply.)