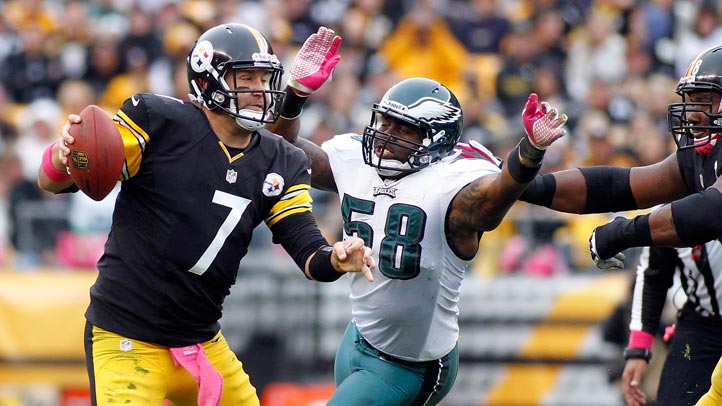 Each week we'll take a look at the decisive play that proved to be the difference between winning and losing.
Ball security remains an issue for quarterback Michael Vick. He had nine turnovers coming into Sunday's game against the Steelers, and when he left Heinz Field that total was up to 11. Vick lost the ball twice, none more frustrating than the first-quarter fumble from Pittsburgh's 1-yard line that wobbled helplessly into the end zone.
The Steelers didn't convert the gift into points -- but neither did the Eagles. But that wasn't the turning point for the Birds -- it was too early and the score was too close. No, that came in the fourth quarter, after Vick found his rhythm, leading a 17-play, 79-yard drive that bled 8:18 off the clock. It culminated in a short touchdown pass to tight end Brett Celek that gave Philly a 14-13 lead with 6:33 remaining.
That was more than enough time for Steelers quarterback Ben Roethlisberger to get his team down the field, despite a holding penalty on the first play of the drive that gave Pittsburgh a 1st-and-20 from their own 10.
And this brings us to the turning point: with the Steelers facing a 3rd-and-12 from their own 18, the Eagles rushed four and dropped seven into zone coverage. Philly had wide receivers Mike Wallace and Emmanuel Sanders bracketed deep, but Roethlisberger's ability to shed Jason Babin's tackle and step up in the pocket -- all while keeping his eyes downfield -- gave Antonio Brown enough time to find a hole in the zone on an intermediate route in the middle of the field, and make a nifty 20-yard grab with rookie Brandon Boykin in pursuit.
That was the third play in what would be a 14-play, 64-yard drive that used up the remaining time and culminated in a Shaun Suisham field goal and a two-point Eagles loss.
There are no moral victories in the NFL but Philadelphia did some things well Sunday. The secondary stepped up against one of the league's best receiver corps, allowing just 13 receptions for 122 yards to Brown, Wallace, Sanders and Jerricho Cotchery. And coach Andy Reid and offensive coordinator Marty Mornhinweg, for the second week in a row, utilized the running game. LeSean McCoy had just 53 yards on 16 carries, but he converted two huge 4th-and-1s on that penultimate fourth-quarter drive, and he scored a nifty third-quarter touchdown after catching a pass in the flat. Added bonus: Vick completed two-thirds of his throws (20 for 30, 175 yards, 2 TDs).
But it's the turnovers -- more than the Steelers' winning drive -- that leaves a bad taste in this team's mouth. And it's something Vick fully understands even if he can't explain it.

"I wish I could tell you, but I don't have any explanation," Vick told the media after the game, via CSNPhilly.com.

"I wish I could take back the fumble the goal line, but I can't," Vick continued. "Ultimately, we put ourselves in a position to win this game, but we didn't win. That's how it goes in the NFL. You wish you could have some things back and there are plenty of things I wish I could have back through the course of the season, but you can't get them."

Wide receiver Jason Avant was right when he said that "no one or two plays determine the outcome of a game." The Eagles were in position to win late in the fourth quarter despite Vick's two turnovers, but the Steelers' ability to convert on third-and-12 kept that final, fateful drive alive. And we all know how that ended.