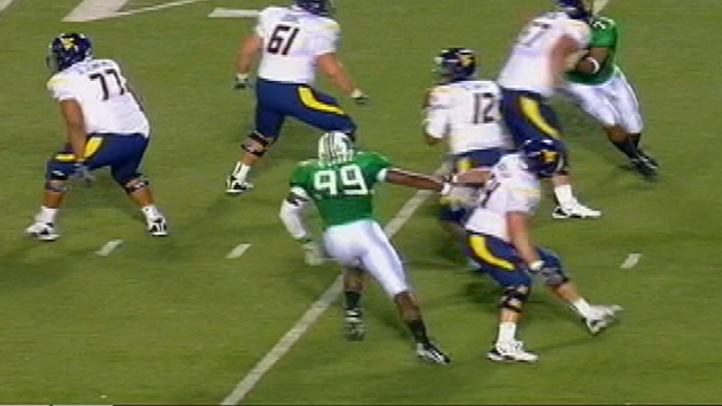 Vinny Curry waited longer than he expected to find a home in the NFL.

Worked out perfect for him.

Curry was selected by the Philadelphia Eagles with the No. 59 overall pick in the second round of the draft Friday night. The defensive end from Marshall joins the team he grew up rooting for as a kid in Neptune, N.J.

``He might be the biggest Eagles fan ever,'' coach Andy Reid said. ``He's dreamed of playing here. He's got one speed and that's 100 miles per hour. He has a vivacious personality, quite a colorful guy and loves to play the game.''

Curry already has a chip on his shoulder because he wasn't picked earlier in the draft. Some analysts considered him a potential first-round pick.

``I was expecting to go in the first, but things happen,'' Curry said. ``I have no idea (why). That's just the way the cookie crumbles. You can't predict the draft. Only thing I can do is get ready to suit up and prove my case.

The 6-foot-3, 266-pound Curry had 26.5 sacks and 10 forced fumbles in his career, including 11 sacks and 22 tackles for a loss as a senior. He could flourish in defensive line coach Jim Washburn's wide-nine scheme.

``Coach Washburn hand-picked me and I can promise you I won't let him down,'' Curry said.

Defensive end wasn't a position the Eagles needed to improve. They have Jason Babin, a two-time Pro Bowl pick who had 18 sacks last year, and Trent Cole, a two-time Pro Bowl selection who's had double-digit sacks four of the last five years. Former first-round pick Brandon Graham also is on the roster as well as a few solid veterans.

``Vinny really was just the best player on the board at the time,'' Reid said. ``There was no way we could pass him up at that time. It really wasn't a need or a worry about anyone we have.''

Earlier in the second round, the Eagles chose California linebacker Mychal Kendricks with the 46th overall pick. They took Arizona quarterback Nick Foles in the third round at No. 88.

Copyright AP - Associated Press