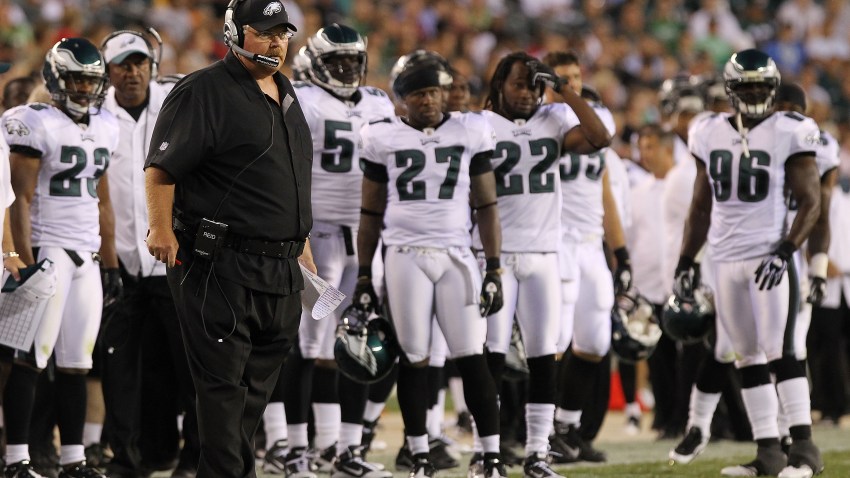 With training camp all wrapped up the Eagles need to start looking towards tough decisions ahead -- mostly which young guys will and won't make the 53-man roster.
As of Thursday the 82-man Eagles roster (including three injured players) resembles that of a college football team playing a home game.
The Eagles must cut the roster down to 75 players by Aug. 31 and all the way down to 53 by Sept. 4. They have questions marks up and down the roster and in some cases -- like at wide receiver -- a spoil of riches that will likely leave some good players exposed once cuts are made.
It's all a numbers game and this is how I see it sorting out:
There are 33 definite spots and about 10 roster spots most likely taken. Of course there are also about 10 guys with very little chance of making the regular season roster.
The No Doubt About It Birds:
QB (3): Kevin Kolb, Michael Vick, Mike Kafka
RB (3): Shady McCoy, Mike Bell, Leonard Weaver
WR (3): DeSean Jackson, Jeremy Maclin, Jason Avant
TE (1): Brent Celek
OL (7): Jason Peters, Max Jean-Gilles, Todd Herremans, Jamaal Jackson, Nick Cole, Stacy Andrews, Winston Justice
LB (3): Ernie Sims, Stewart Bradley, Akeem Jordan
S (3): Quintin Mikell, Nate Allen, Kurt Coleman
CB (2): Asante Samuel, Ellis Hobbs
DT (2): Mike Patterson, Brodrick Bunkley
DE (3): Trent Cole, Juqua Parker, Brandon Graham
K/P/LS (3): David Akers, Sav Rocca, Jon Dorenbos
(NOTE: Only four rookies -- Kafka, Allen, Coleman and Graham -- are on the "Definite" list)
The Likely Birds:
Offense (4): WR Riley Cooper, RB Eldra Buckley, TE Clay Harbor, OL Mike McGlynn
Defense (6): S Quintin Demps, LB Omar Gaither, LB Tracy White, CB Joselio Hanson, DT Trevor Laws, DE Daniel Te'o-Nesheim
(NOTE: These are the guys with jobs to lose over the next few weeks)
The No-Way-Jose Birds (Guys With Little Chance of Making the 53-Man Roster):
Offense (6): WR Dobson Collins, WR Jared Perry, OL Zipp Duncan, OL, A.Q. Shipley, OL Greg Isdaner, OL Jerail McCuller
Defense (4): DE Eric Moncur, DT Boo Robinson, CB Geoff Pope, CB David Pender
(NOTE: Some of the linemen on this list and possibly one of the wideouts could land on the practice squad -- an all to familiar place for Collins.)
So really there are 26 Eagles battling for 10 spots. These are my picks to win out the battles:
Wide receivers Hank Baskett, Jordan Norwood, Chad Hall and Kelley Washington are battling for what is likely going to be two spots. It will be hard to see the Birds not going with Baskett and Washington considering they both excel on special teams. But, don't be surprised if one of the two vets is let go in favor of fan-favorite Hall.
Of course Hall also plays some running back so he could be battling it out with J.J. Arrington, Charles Scott and Martell Mallett for what could be one backfield spot on the roster. If not Hall, Mallett might have done enough to earn a spot on the inactive list each week.
At tight end Cornelius Ingram could be headed for one of the injury lists which could open up a spot for veteran Nate Lawrie to make the roster mostly as a blocking tight end.
Also on the offensive line, the Birds normally carry three or four extra guys. Austin Howard seems likely to land a roster spot after an excellent camp. That would leave Fenuki Tupuo, King Dunlap and Dallas Reynolds on the outside looking in.
As for the defense, after an excellent camp rookie Trevard Lindley will likely land a spot in the defensive backfield. That pretty much means that Dimitri Patterson, Macho Harris. Ryan Hamilton and Anthony Scirrotto will be battling for one spot. Harris' ability to play at safety and/or cornerback should give him the edge.
On the defensive line it's a likely uphill battle for rookies Jeff Owens and Ricky Sapp against vets Antonio Dixon and Darryl Tapp. It looks like Tapp will get one nod but don't be surprised if the Birds hold onto a guy like Sapp with outside rushing ability over a stuffer like Dixon.
If the Birds hold onto Washington, Baskett, Hall/Mallett, Lawrie, Howard, Lindley, Harris, Tapp and Sapp that would leave only one spot left for another backup linebacker. Second-year vet Moise Fokou is battling with rookies Simoni Lawrence, Keenan Clayton and Jamar Chaney for the final roster spot. Considering Clayton was a fourth-round draft pick I would give him an edge with Chaney landing on the practice squad.
I would love to hear what you think -- feel free to disagree or agree with me in the comments section.