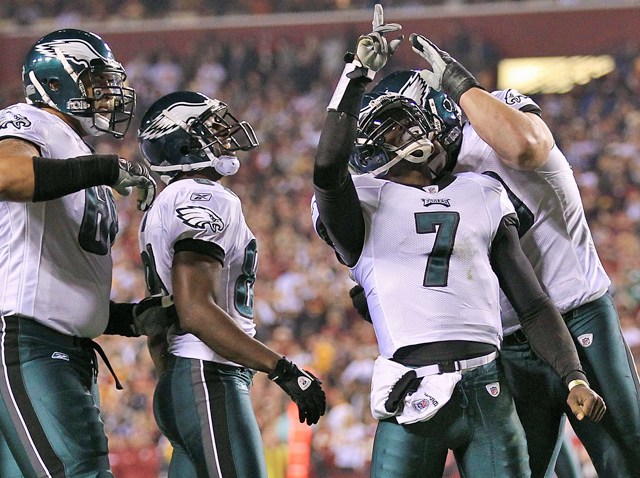 The Eagles took apart the Redskins in front of a national television audience Monday night in a series of firsts.
The first quarter of the Eagles 59-28 Monday Night Massacre of the Redskins featured and amazing 280 yards of Eagles offense and four TDs and a series of three three-and-outs and an interception for the Redskins and their newly-inked $40-million man Donovan McNabb.
The Eagles were paced by an amazing performance by QB Michael Vick. He was a perfect 8 for 8 for 181 yards passing and two TDs and added another 20 yards rushing and a score.
The biggest strike was 18 seconds in to the game as Vick found DeSean Jackson for an 88-yard score on the first play from scrimmage.
The Birds would score three more TDs in the first 15 minutes. When the dust settled on the first quarter the Birds held a 28-0 lead.
It was the most points ever in a first quarter for a team on Monday Night Football.
It was the first time in the history of the Redskins-Eagles match up that either team put up 28 in a quarter against the other.
It was the first time in NFL history that a road team led 28-0 after the first quarter.
The Eagles weren't done scoring either. On the first play of the second quarter Vick would connect with Jeremy Maclin for a 48-yard TD that made it 35-0 Eagles. And they would add another Vick rushing TD and an Akers field goal to make it 45-14 at the half. By the way those 45 points were the most points ever by an NFL road team in the first half.