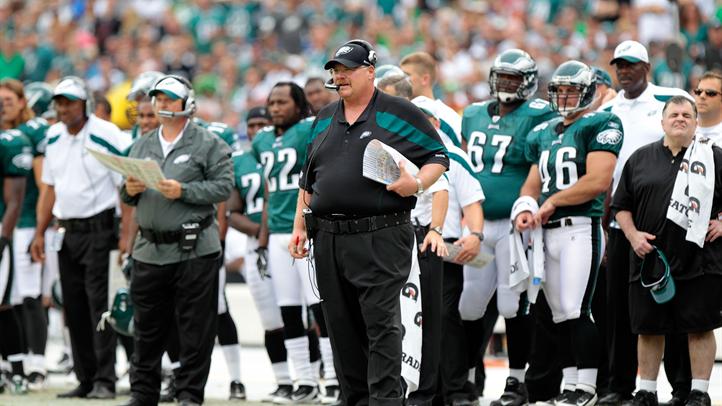 The Eagles nightmarish "Dream Team" season limps to an end Sunday as the Birds host the Redskins.
Little besides pride (and possibly Andy Reid's job) is on the line in the season finale but that isn't stopping out NBC10 football-picking experts from all backing the Birds to reach .500 and avoid their first losing season since 2005.
Eagles win 20-10, reporter Tim Furlong predicted. "Reid spins it as a good finish. Big Red comes back for a 13th season. More frustration -- more of the same -- for the fans next year."
That idea that a win would be hollow was echoed by others as well.
"Since it means nothing and the Eagles are on a roll, I'll say Eagles 31-17," said social media guy Lou.
"This should be an easy pick, but the Eagles do have trouble stopping the run," said video journalist Rich. "On the other hand Andy does want to finish 8-8 and can usually get his team up for meaningless games so I will stick with the Birds 24-14."
Birds Nest blogger Brian Solomon sees a similar 24-13 Eagles win.
"The Eagles will close out the season with a four-game winning streak, making everyone wonder, 'What if?'"
At least no matter the result, this game brings to a close a disappointing season.
Per Birds Nest blogger Drew Magary:
Aw, it's the last game of the season! I'm so sad! I'm gonna miss this team and the myriad ways in which it let an entire city down. I had such high hopes for them. I had visions of Andy Reid butchering the clock at the end of the NFC title game, of Mike Vick missing twelve games due to various sprains and leg breaks, of DeSean Jackson managing to be useful. Alas, that will all have to wait until next season. And the best part is: NO ONE IS GONNA BE FIRED! Isn't that great? You get the same, horrible coaching next year! Oh goody! EAGLES 40, REDSKINS 10.
As for this blogger, I see the Eagles winning big as well. The Redskins last stands came against the Patriots and Giants. This game means less to the Skins than it does to the Eagles. I see the Eagles fighting for jobs next year (DeSean Jackson, Joselio Hanson, Ronnie Brown) and fighting for their coach. Expect a lot of Ronnie instead of Shady McCoy as the Eagles win 33-17.
And with the win the 8-8 Eagles will once again pick in the middle of the pack in the Draft instead of as high as ninth were they to lose.
Time's yours.