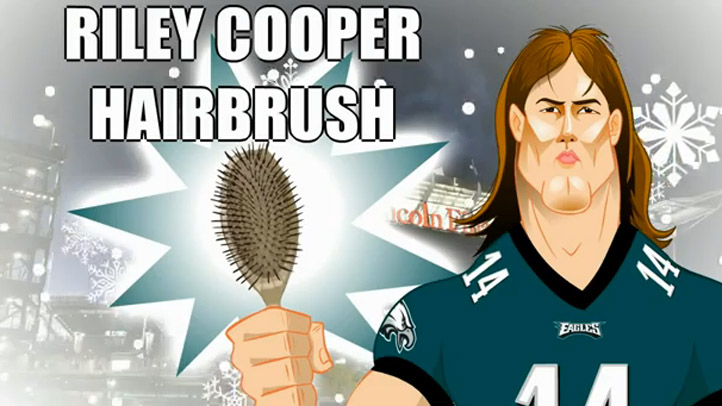 The Eagles multimedia department did it again -- creating a funny, yet cheesy, flash video teasing the Birds matchup Sunday against the Patriots.
This time instead of focusing on the opponent or matchup, the folks at PhiladelphiaEagles.com poked fun at Black Friday sales while paying homage to some of the team's personality.
"Sunday afternoon at Lincoln Financial Field we're having our game day blowout," declares the announcer.
They then proceed to list imaginary products inspired by Eagles players like the Jason Babin Home Tattoo Parlor, Nnamdi Asomugha Scrabble and Jason Kelce and Todd Herremens Facial Hair Tonic.
And you gotta love the Riley "Sunshine" Cooper hair brush. But I have a suspicion that the Tom Brady hairbrush is a more popular item.
As for the game against Brady's Pats, it was looking more likely Friday that a trio of Eagles stars wouldn't be in uniform when the Birds host the Patriots.
WR Jeremy Maclin (shoulder/hamstring injuries) didn't practice all week and was listed as doubtful for Sunday. If J-Mac sits, Cooper would get his second start of the season.
Also not practicing Friday was starting QB Michael Vick (ribs) who was listed as questionable. Vince Young would get the nod for the second-straight week if Vick can't go.
CB Asomugha sat after hyperextending his knee at practice Thursday and was listed as questionable for Sunday.
"He put full weight on it and we haven't asked him to run on it, we haven't done that yet," said coach Andy Reid. "But, he feels pretty good. He stayed in and did rehab throughout the practice, seems to be doing OK."
Normally when players don't practice Friday they don't play Sunday but maybe one, two or all three of these guys could surprise fans and suit up for the Pats game.
One guy who was listed as questionable but did practice Friday was Dominique Rodgers-Cromartie. DRC missed last week's game with an ankle injury but could be ready for the Pats.
"Well listen, I can't tell you he's all of the way back. He went out and he tried it today to see how it felt and he moved around pretty good and we're kind of just taking it day by day kind of like you do with these things," Reid said. "So that's why I hesitate to predict anything -- I just don't go there. Everybody's a little different and how they come back from injuries is a little different."
The other players landing on the injury list for the Pats game were T King Dunlap and WR DeSean Jackson. Dunlap was ruled out with a concussion while D-Jax was probable with a foot injury.
Talking about DeSean, his wallet is $10,000 lighter after he was fined for unsportsmanlike conduct by the NFL for flipping a ball at Giants defensive coordinator Perry Fewell after a 50-yard reception that was nullified by the penalty.
Eagles DT Trevor Laws was also hit for a $7,500 fine for a late hit on New York QB Eli Manning after an Eagles interception.