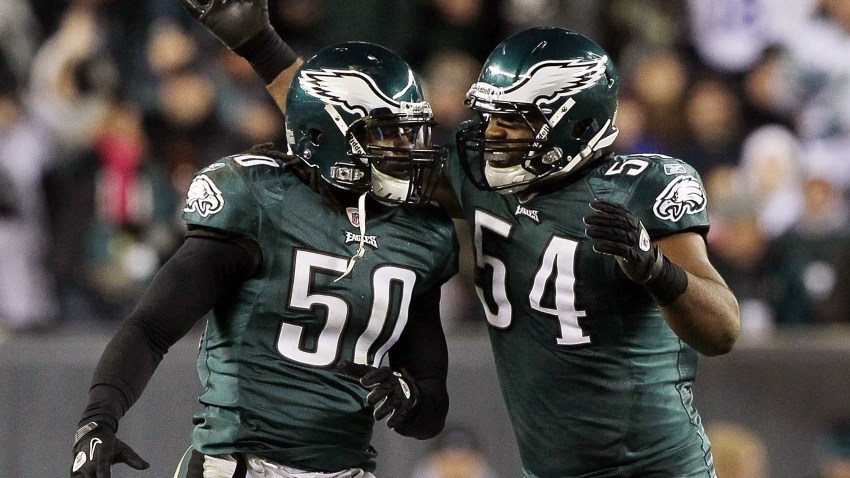 Back in October, we took a look at the effectiveness of the Eagles pass rush on a per play basis. At that early point in the season the most dominant pass rusher on the team was Juqua Parker, who experienced a mini-renaissance while sharing snaps with rookie Brandon Graham. Trevor Laws was also finally showing some spark.
Almost 10 weeks later, the picture has changed somewhat. Parker, certainly, fell off the radar a bit after regaining his starting job. Laws hasn't been quite as noticeable either. And of course, Trent Cole continues to get held on seemingly every play.
If we look at the actual numbers of total Pressure per Rush — compiled from statistics collected by Pro Football Focus on sacks, hits, pressures, and blocked passes — those anecdotal observations become very real (see chart).
For starters, you can see that Parker, while still more effective than last year, has dropped off to a lesser role, going from getting pressure on close to 20 percent of all pass rushes to only 13 percent. Laws has similarly fallen back to the middle of the pack as far as Eagles defensive tackles go.
Meanwhile, Cole has actually become slightly more effective as the season has gone on, leading the team in Pressure per Rush and sacks, with nine.
First round pick Graham, whose season ended prematurely on Sunday with an ACL tear, didn't make a lot of flashy plays. Yet the rookie sill had a promising first year. He was second on the team only to Cole in quarterback hits and pressures, leading him to a total Pressure per Rush percentage of 13.7, good enough for third-best in the NFC East after 14 weeks. If he can recover from his knee injury, Graham should have a bright future on the Eagles defensive line for years to come.
Hopefully new addition/old friend Derrick Burgess can make up some of Graham's production in the final weeks.
Make sure to tune back in tomorrow to Birds Nest, when we'll break down more pass rush numbers across the rest of the division, including why the Giants, Sunday's opponent, don't necessarily have the frightening defensive front four that everyone thinks they do.