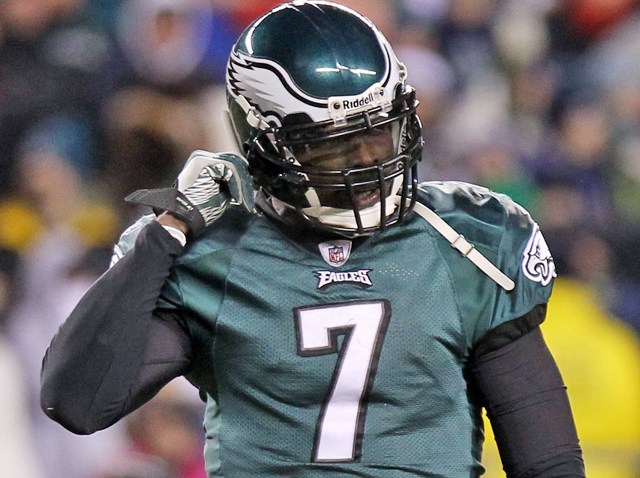 Another year, another disappointing end to the Eagles season.
The Birds offense came alive too late as they lost to the Packers 21-16 in the wild-card round of the playoffs.
The Birds defense and special teams, more than the offense, were what failed Philly Sunday at the Linc. The D allowed three Aaron Rodgers TD passes on all three Green Bay trips inside the red zone. And the normally surefooted David Akers missed two makeable field goals including a 34-yarder in the fourth quarter.
"I want to do whatever I can to help the team," Akers said after the game. "I just don't want to hurt. Any opportunity I go out there, I want to do well for them. I really feel badly for my teammates, coaches, the organization and all that. I've made a lot of kicks in my day. Today, missing them, it hurts. I don't know what else to say. I didn't do what I should be doing."
In the end the Birds still had a chance to overcome the defensive miscues and missed field goals but Vick wound up looking like Donovan McNabb instead of MV7. With 44 seconds left and the Eagles facing a first-and-10 from the Packers 27-yard line, Vick threw his only interception of the game to seal the W for Green Bay.
"I feel like I got greedy," Vick said. "I have to see it on film, but it's hindsight now and it's just something I have to learn from."
The loss means that for the ninth time in Andy Reid's reign, the Eagles have reached the postseason only to fail to win the Super Bowl.
This time Reid should look down the sideline to his defensive coordinator Sean McDermott. The Eagles D was gashed for 123-yards rushing from unknown rookie James Starks and the three Rodgers TD passes. But he also needs to look at the lack of urgency by the offense in the first half as they struggled to put together drives especially once DeSean Jackson was lost for about a quarter with a knee injury.
Vick was anything but sharp putting up a 79.9 passer rating while still managing to throw for 292 yards and a score while adding 33 yards and a TD on the ground on eight rushes. His counterpart Rodgers threw for far fewer yards (180) and allowed a fumble that led to the Eagles first TD but he tossed three TDs while throwing no interceptions to post an impressive 122.5 passer rating.
The Eagles now enter an uncertain postseason with a possible lockout looming and contract decisions to be made for key contributors including Vick, Jackson, Akers, Quintin Mikell and others.