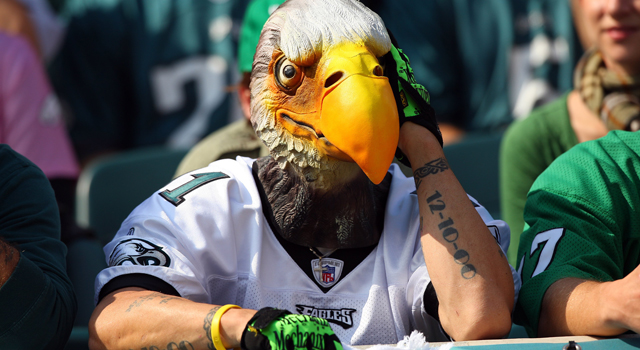 The Eagles face the Packers Sunday in the opening round of the NFL playoffs but unlike some previous years, the excitement around the city in the week leading up to the playoff opener just hasn't been palpable.
The Eagles keep holding morning pep rallies but the hype just doesn't seem to be building like it normally does.
Where is all the green, random high-fives to the other guys wearing the Eagles hat or green beer specials?
Maybe the reason why everyone isn't seemingly bleeding green this week is because after a handful of Andy Reid-led Eagles playoff letdowns, Birds fans have tempered their excitement. Or, maybe there are some fans that still can't bring themselves to root for a team with a convicted animal abuser (Mike Vick) under center.
But, the likeliest reason for tempered reaction to the Wild Card round could be that Eagles fans are worried that their beloved Birds are going to lose to the suddenly media-darling Packers (i.e. Sports Illustrated's Peter King's Super Bowl pick from the NFC).
Enrico over at The700Level.com seemed to be noticing the same thing:
Perhaps I'm just getting caught up in the barrage of media stories trying to freak out about how good this Packers team really is, or perhaps it's due to the fact that the majority of the national media is picking the Packers to defeat the Eagles on Sunday at the Linc, but there is certainly a vocal group of people who are not confident in the Eagles this week.

My question is directed at Eagles fans specifically: how confident are Birds' fans in the Eagles this Sunday vs. the Packers?
And it seems that the suspicion that fans are worried the Eagles could easily lose is a fact -- well at least factual, according to T7L's poll results.
With 725 votes total, only 272 people (37.5-percent) were some form of confident that the Eagles would win while 453 people (62.5-percent) were worried about the Pack.
Even more shocking could be that only about 7 percent of Eagles fans were "very confident" in their team while more than 20 percent are "very worried" about the Green Bay game.
Of course this poll could have been infiltrated by Cheeseheads trying to stink up our collective psyche but more likely after two stinker games against inferior talent (Vikings, Cowboys) to end the season, Birds fans just aren't confident in Vick and co. anymore.
Me personally, I want the Eagles to win but think the Packers will by a fairly convincing 28-17 final.
Am I worried my prediction will become true? Yes. But just like I was proved wrong before (like when I said the 2010 Phillies were dead in the water at the All-Star break) maybe a magical run can knock the pessimism out of this Philly sports fan once and for all.
And just so you can be heard too we are posing an even easier question in the poll above. "Who will win Sunday?"