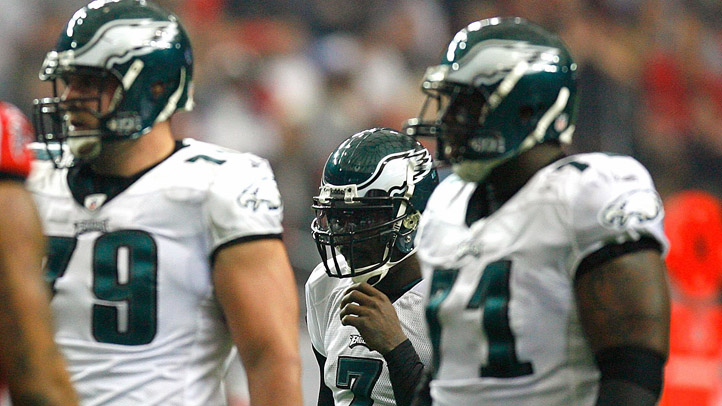 The Eagles have steamrolled through NFL Free-Agency like there is no next season.
They inked the top free-agent on the board – Nnamdi Asomugha.
They upgraded the defensive line – Cullen Jenkins & Jason Babin.
They got a dynamic backup QB with some legs to run on – Vince Young.
They added a big running back – Ronnie Brown.
They got a complementary No. 2 tight end – Donald Lee.
Heck,
They even locked down all their draft picks.
But the one area of need where the so-called "Dream Team" hasn't made a big splash is offensive line.
Guard Todd Herremans and tackle Jason Peters are pretty much the only certain starters on an o-line that last season was good protecting the rush as the Eagles finished fifth in the NFL with 2,324 yards rushing. But the same couldn't be said about the pass game. The Birds were fourth-worst in the NFL allowing 49 sacks and third-worst allowing 101 QB hits. Along the way they lost two QBs Kevin Kolb and Michael Vick (even if Vick's injury happened outside the pocket).
They likely would have given up even more QB hits if they didn't have the elusive Vick playing out of his mind for half the season.
The Eagles needed to beef up the line big time if they hope to keep Vick healthy but did they?
Yes, they drafted big guy G/T Danny Watkins (first round), G Julian Vendervelde (fifth round) and C Jason Kelce (sixth round) and inked veterans G Evan Mathis and T Ryan Harris but they didn't add a huge name to protect Vick's rear.
This is how the line shapes up in Lehigh so far:
Centers: Jamaal Jackson, Mike McGlynn, A.Q. Shipley and Kelce
McGlynn could be moved back to the bench or even possibly guard if Jackson is healthy after being shut down early last season with a triceps tear. Kelce and Shipley could be battling it out to land on the practice squad.
Guards: Dallas Reynolds, Mathis, Vandervelde, Herremans and Watkins
Herremans is pretty much a shoe-in to start on the left side and unless Watkins really struggles he will likely line up on the right side. But McGlynn or possibly Mathis could step in and start. As for Reynolds – don't expect him to stick around on the 53-man roster.
Tackles: King Dunlap, Austin Howard, Winston Justice, Fenuki Tupou, Peters and Harris
This is the most interesting position battle on the Eagles this training camp. Peters is likely to start on the left side but who will protect Vick's blindside? Justice is on the PUP list as he recovers from a knee injury so it seems that Dunlap – who started five games last season – will get the starting gig. And it's possible that Harris steps up to start like he did in Denver. But don't be surprised if the Eagles make a move to address this spot – especially if they think Justice is going to need more time to recover. Also Howard's size (6-foot-7, 333 pounds) could tempt the Eagles to keep him around just in case someone gets hurt.
The Eagles have depth but they don't have the big-name bruisers most top teams have on their lines.
Right now it looks tentatively that (l to r) Peters, Herremans, Jackson, Watkins and Dunlap will line up on opening day. Am I alone to not feel very confident with that group? I get that new line coach Howard Mudd is some sort of guru who gets the most out of his players but this group?
Don't be surprised if the Eagles beef up the "Dream Team" by adding another piece to the o-line before the preseason ends. If not the Birds could be banking on depth and chemistry to overcome raw talent.