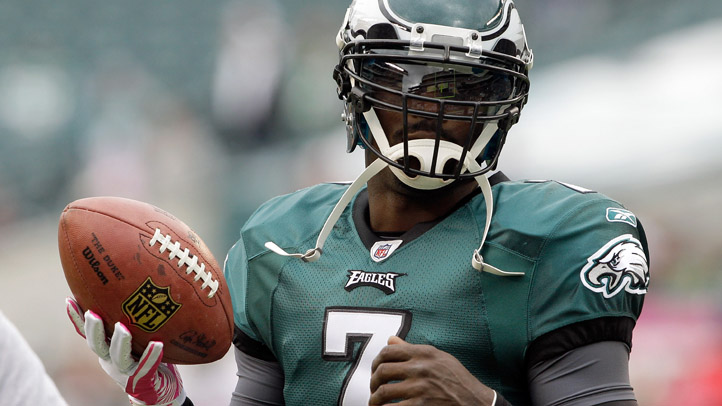 Last week in this space we wrote that quarterback Michael Vick had to change or the Eagles were doomed. Despite twp pretty awful interceptions against the Ravens, Vick, for the most part, looked substantially better. He seemed more comfortable going through his progressions, was less confused by a much better Baltimore defense, and got a ton of help from his pass-catchers, something we couldn't say after the Browns game.

Vick still has a ways to go -- he has six picks in two games, many of the "How in God's name could he throw that!?" variety. In fact, FootballOutsiders.com has Vick 32nd among the 33 quarterbacks who qualify for their rankings. Behind him? Jay Cutler. Which means that, on a per-play basis, Vick has been outplayed by the likes of Blaine Gabbert, Ryan Tannehill, Jake Locker, Matt Cassel and Brandon Weeden. Obviously, Vick is better than any of these guys but he has to be more consistent. We think the Ravens game was a step in that direction.

If nothing else this reinforces the idea that we should all calm down. One week of football isn't much to go on and after what happened in Cleveland, the Eagles were sharper against a Ravens team that many experts think can represent the AFC in the Super Bowl.

But it's not all sunshine and rainbows; Philly lost center Jason Kelce for the season with a serious knee injury that could include a 10-month recovery. And that's not it along the offensive line: left tackle King Dunlap tweaked a hamstring against Baltimore and is a long shot to play against the Cardinals this week. This means that Demetress Bell is the next man up (and Philly's No. 3 left tackle after Jason Peters, who ruptured his Achilles and could be sidelined for the year, and Dunlap).

Injuries aside (and what team isn't facing these same issues?) the Eagles have to be happy with where they're headed. Obviously, the 2-0 record is gravy, but if this team can continue to gel while finding a way to win then it portends good things in December and January.

(Also not hurting: officiating crews with Eagles players on their fantasy teams working the games. No, really, that happened. During an appearance on 94 WIP, McCoy talked about the officials as "fans," adding "One of the refs was talking about his fantasy team, like, 'McCoy, come on. I need you for my fantasy,' ahhh, what?!" Oh my.)

Now what? Philly heads to Arizona this weekend before their first division game against the Giants. The Cardinals are coming off a mind-blowing victory over the Patriots in New England and they're also 2-0. This will be a good test for the Eagles, whose schedule only gets tougher. After the Giants, it's off to Pittsburgh, then Detroit and Atlanta.