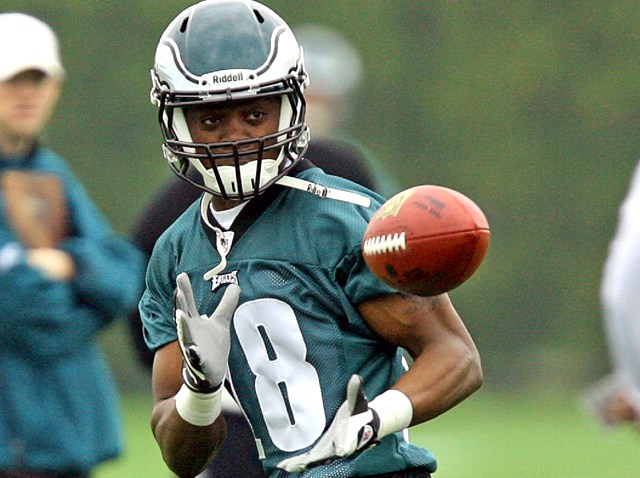 Eagles wideout Jeremy Maclin appears ready to go Sunday when the Eagles face the Rams in his hometown of St. Louis but he is also ready to wear another cap this season.
The Eagles wide receiver is also a blogger now.
And after a tumultuous off-season where the third-year receiver dealt with a lockout and health scare he is sharing his thoughts via a GQ.com blog Maclin will be writing throughout the season.
The verdict is out on if writing is in the future for Maclin for now he is just relieved to be on the field.
This summer hit me with multiple levels of uncertainty. First watching the lockout, no one having any idea what the season was going to look like. And in the midst of that I started feeling not so good. Something was not right, but at first no one could tell me what it was. I went through all these different tests. And even though I felt better as the summer wore on, my blood showed that there was a chance I had a type of lymphoma.

It felt like the lockout -- and the fates of hundreds of players and millions of fans -- was being decided in these closed-door meetings. And at the same time my own fate was playing out on bloodwork slides in laboratories. I had no control over any of it. It wasn't an injury that I could see and rehab. If you had asked me, I would have said that I could play football. But the way lab results were coming back, my doctors felt otherwise. There was a possibility of not being allowed to play this year. Now, aside from redshirting at Mizzou, I had never missed a game before, not since I was nine years old quarterbacking for my older brothers in St. Louis (this was during the era of Isaac Bruce, Torry Holt, and the Greatest Show on Turf, so we went deep a lot). The concept of sitting out a whole season would have been like torture to me.
Gotta love Maclin's attitude about getting out on the field and playing -- of course the Eagles assembled "Dream Team" makes it easy. But Maclin doesn't see his Birds as the team to beat in the NFC.
Obviously, there's been a lot of talk about us, with people using the term "Dream Team," saying we're the team to beat. Vick, McCoy, Avant. Two of the best young receivers in the game in me and DeSean Jackson, and three of the best D-backs. But the game's not played on paper. In reality, Green Bay's the team to beat. They were the ones who were there at the end last year. The same way that I knew I had to work even while doctors were telling me things I didn't want to hear, I know we have to keep working through camp and through each week of the season if we're going to have a shot.
Amen Jeremy.
And expect Maclin to have plenty to say next post about his return home to Missouri this weekend.