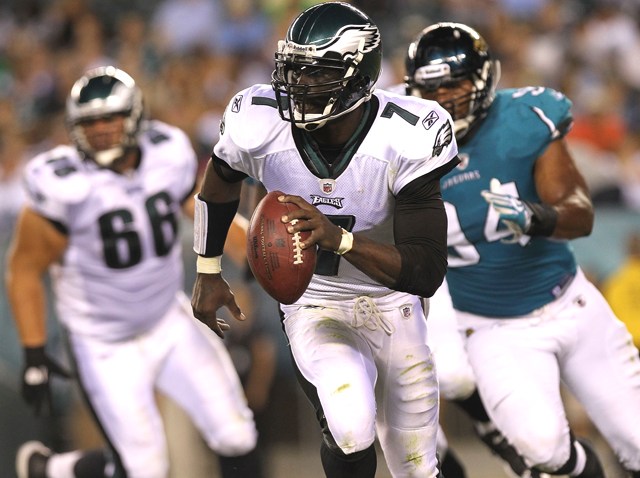 Some good things, some bad things from the Eagles' first preseason game Friday night against the Jacksonville Jaguars. Here are my thoughts broken down roughly by the first, second and third teams.
Thoughts on 1st Team:
*Kevin Kolb looks good. The receivers look as explosive as I remember them. But we'll have to see if they can continue to get those wide open looks once the season begins.
*The 5-yard slant route is perfect for this offense. However, at some point this team is going to get burned when a defensive player jumps one of those routes. Using that play with Kolb under center is very predictable at times.
*Furthermore on Kolb, he really needs to stop staring down his receivers. Hopefully with time and less nerves he'll look away from his target, but there were a few times he looked at one receiver the whole way and then tried to fire in a pass where there was no space. That'll get you killed in the NFL.
*LeSean McCoy looked really solid. He doesn't have the three-step acceleration that Brian Westbrook had, but his slashing style will be productive. Shady also does seem to have added some muscle and has looked more confident holding the ball close to his body. I feel good about him.
*Unfortunately, I don't feel good about the middle of the offensive line. It seemed there were a few times where Max Jean-Gilles and Stacy Andrews failed to get any push up the middle and McCoy was forced to just lean into their backs for two yards.
*DeSean Jackson is freakin' fast (if anyone forgot). Defenses know that reverse is coming at least once a game -- the Jags even covered it fairly well. The cornerback got out to hold him to a three yard gain, but DeSean pulled a Madden-esque sidestep and zoomed past the rest of the defense for 20 yards.
*DeSean on his first quarter reverse: "Yeah, it was nice."
*I found the defense hard to judge because Jacksonville's No. 1 offense looked so out of sync. But they forced three and outs, so its hard to be critical.
*And Asante Samuel even got in on a good tackle. (Yes the bar is very low.)
2nd Team:
*Michael Vick can throw 50 yards with the flick of a wrist, but it's not perfectly accurate. Riley Cooper made a great adjustment over his shoulder and hauled in that long bomb. He sure looked like a football player.
*Ball security, Michael. Vick really looked antsy out there early. It didn't help that the lines were collapsing around him.
*Everyone saw that hit laid by rookie Kurt Coleman on a third down. But if you looked at the line you saw Brandon Graham make one outside move and blow by Jacksonville's starting right tackle. Impressive stuff.
*Later on, Vick looked more poised. He showed some good speed escaping the rush and running for his touchdown. He also made a few good touch passes where he didn't feel he needed to fire the ball 200 mph.
*Joselio Hanson got schooled on the outside for a score. Not making a good case to be included in the starting RCB conversation.
*Eldra Buckley is a more natural-looking downhill runner than McCoy. But he doesn't have nearly the talent.
*Graham dropped into coverage but there wasn't anyone who ran a short enough route to make it matter.
*Again, Vick seems to have his legs back. But once he started to scramble well, it appeared that he wasn't necessarily going through all of his progressions anymore. He likes to run and was very willing, probably too willing, to do so after he had some success.
*I think Andy Reid told Vick not to run anymore going into the second half.
*Austin Howard looked awfully good as the left tackle against whomever Jacksonville was throwing at him.
The Rest:
*Chad Hall is fast. When he gets outside as a running back, DeSean might be the only one who can beat him in a footrace. Of course, when Hall gets stuck inside, he looks like a toothpick.
*Jags backup Luke McCown, a marginal starting quarterback, can really take apart third-stringers.
*Martell Mallett ran hard, but his success may just be because the Eagles' third-string offensive line demolished the Jaguars' third-string defensive line. For whatever that's worth.
*On his almost interception, Trevard Lindley looked a lot like a bigger version of Asante -- jumping on the route, getting to the ball before the receiver. Combine that with a few tackles and he's not lacking for talent.
*Mike Kafka's arm did not impress me. He under threw two wide receivers running deep routes in the second half.