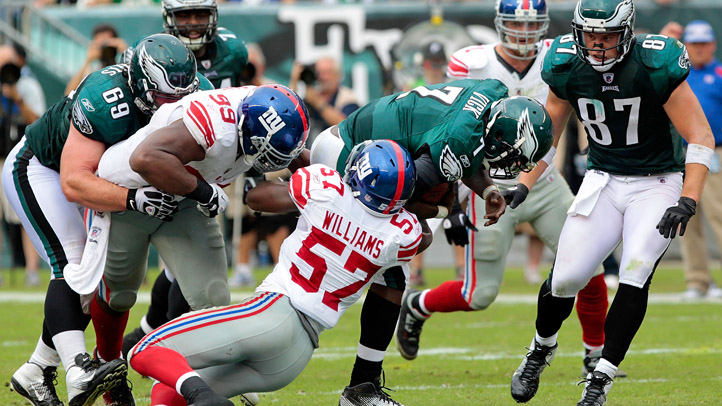 The number one problem with the Eagles through three games is their defense. By almost every measure other than sacks, Juan Castillo's unit ranks near the bottom of the league. But I bet there's a healthy sense of dissatisfaction with the offense as well.
On the surface, those concerns seem overblown. The Eagles offense, after all, ranks 10th in the NFL in points per game and sixth in yards.They have the fourth-most first downs and the fourth-highest third down conversion rate. Moreover, they've done all of this despite an offensive line that was hastily stitched together and having their MVP quarterback get knocked out of two games.
So what's the problem? Obviously, after last week, short yardage and red zone concerns are high on the list of many Eagles fans. We will have to see if those issues linger through the rest of the season.
But perhaps the biggest culprit in the offense's sporadic ineptitude has simply been turnovers. Against Atlanta Michael Vick threw an interception and lost two fumbles. Then last Sunday the Giants came away with three interceptions, one from Vick and two gifts from Mike Kafka. The Eagles currently have the 6th-worst turnover per drive ratio in the NFL.
Off those six turnovers, the Eagles opponents scored 28 points — easily the difference between winning and losing against the Falcons and Giants. A large portion of that blame rests with the Eagles defense, which needs to step up and protect the lead when the offense makes a mistake. But the defense's ineptitude doesn't absolve the offense of responsibility either.
Until Castillo can shore up the Eagles defense, Vick (with injured hand) and company have to be extra smart with the football. Even with a sieve of a linebacker corps, both of the last two games were winnable until the end. A few more points, a few less mistakes, and maybe you start turn things around again.