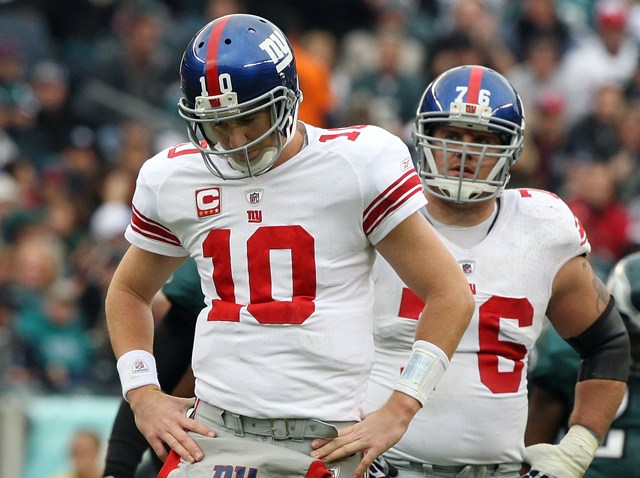 So far our Eagles-picking experts here at NBC are 1-1 having accurately picked the Eagles domination of the Rams but missing the mark on the Falcons come-from-behind victory last week.
Will be a bunch of homers and picking the Eagles to win be the right move this week?
That's right we are back again picking our home squad -- this time at home in the Linc. This week 92 percent of our panel is picking the Birds.
The lone exception is sales guy Corey who changed course after picking the Eagles to win last week.
"It will be a sloppy hard fought game, but turnovers will be the reason that the Giants win this game 21-20," Corey says. "The Giants D scores their 2nd touchdown in as many games."
OK Mr. Sourpuss.
The rest of us see a Giant win led by meteorologist Glenn "Hurricane" Schwartz. Last week the "Hurricane" was the closest "expert" picking the Eagles to lose 30-27 -- not far off from the 35-31 final.
Eagles 30 Giants 20, Hurricane says. "Giants strength is defending the run. Not important for the Eagles. Giants weakness is in the secondary, and that helps Eagles a lot… and we can always count on Manning for turnovers."
The sports guys and gal see a similar result.
Vai Sikahema has its 24-20 Eagles. "Vick is playing, enough said."
Football Night in Philly's Howard Eskin predicts a big Eagles win 34-17.
"As bad as the Eagles collapsed last week against Atlanta, it will be the opposite against the New York Giants. This game is easy. The Eagles don't lose after losses and the Giants are a last place team in the NFC East."
Traffic reporter/sports anchor Jillian Mele has it 21-17 Eagles and plans on collecting on her bets with her Giants supporting friends.
And sports producer Colin has it at 24-13 Eagles as Vick "bounces back strong."
Social media guy Lou also sees a 24-13 Eagles win. It "doesn't matter who plays QB, the Giants secondary is too dinged up to stop the Eagles offense," he says.
The newsdesk guys see bigger margins of victory. Franco has it at 30-21 as the "Eagles defensive line gets pressure on Eli and causes a turnover or two (or 3)." And Ben has it at 38-27.
Reporter Tim Furlong also sees a double-digit victory as the Eagles win 31-21. "Eli looks particularly Eli-esque (which means lame) and Vick looks pretty good although he won't run as readily as he usually does- gonna be a tad cautious post-concussion," Tim says.
As for the Birds Nest bloggers -- we all agree on team green.
Brian Solomon sees a close 22-20 final after the Giants slow down the game with the double-headed rushing attack of Brandon Jacobs and Ahmad Bradshaw but Asante Samuel seals it with a late pick.
Drew Margary spreads it to 30-24, Eagles win. "I think the Giants are a lousy team, but this Eagles defense just got buried last week. They need someone other than Trent Cole and Cullen Jenkins to play well in the front seven."
As for this blogger, the history of close finals causes me to say the Giants will cover the 7.5-point spread but still lose. Eagles win 27-21 after giving up a late TD from Eli to Brandon Stokley (just because Stokes being in the NFL still makes me laugh).
What do you think will happen Sunday? Let us know below.