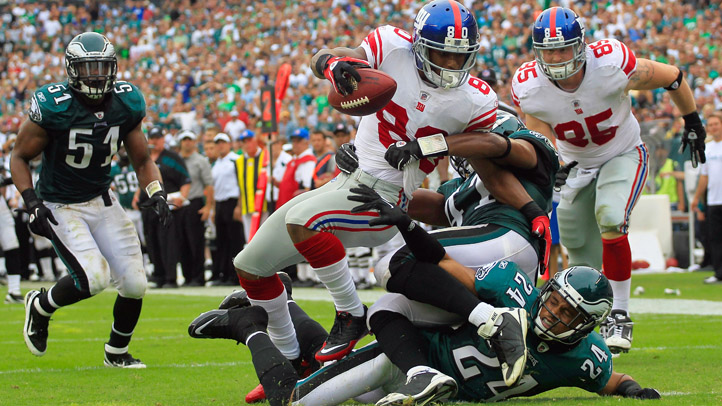 The 3-6 Eagles have one last chance to start the redemption of their "Dream" season as they hand the ball over to Vince Young in New York Sunday night.
The Birds will be without QB Michael Vick or WR Jeremy Maclin as they take on the division leading Giants (6-3) in the Meadowlands.
Our team of experts after being burned last week by another Eagles fourth-quarter collapse may have finally learned its lesson.
This week 63 percent of our football-picking experts see a Giant victory.
Giants 24-10, says news anchor Tim Lake. "I'm sorry to sour on the Eagles but they just don't have it this year -- especially with Vick injured."
"Apparently every dog DOESN'T have its day," reporter Tim Furlong said. "I have to go with the Giants in this game as not even pride can save the Eagles this week. Giants 27-13."
Birds nest blogger Drew Magary agrees with the Tims.
"This week, I think we'll all be surprised if the Eagles DON'T lay an egg. They look very much like a team that's packed it in for the season. Frankly, I don't know why they'd even let Mike Vick out there for this game with two broken ribs. If he plays, it's just another sign to me that things have slipped out of Andy Reid's control. Giants 36, Eagles 16."
Of course we now know Vick won't play but that didn't stop some of our experts from picking the Birds.
"It's so obvious that the Eagles will lose this big of a game that I'm picking them to actually do the opposite and pull this one off," said sales guy Corey. "Just as the Birds have no rhyme or reason to their play calls or game plan, in typical Eagles unpredictable fashion, they may actual pull a rabbit out of their hat on this one and surprise everybody. Eagles 24, Giants 20."
Social media guy Lou sees it 21-17 Eagles.
"Every time we count (the Eagles) out, they find a way to win. And when they're supposed to win, they don't."
I'm finding myself agreeing with Lou and Corey. The Eagles just seem to win games like this most of the time. I really think Young has something to prove and that Steve Smith will shine in his first game in North Jersey against his former team.
What do you Birds fans think out there?
Do you see another Miracle in the Meadowlands.