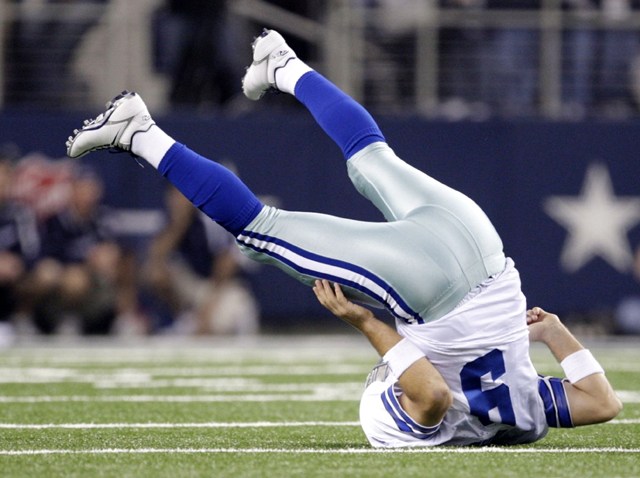 You can win your fantasy league without any Cowboys, Redskins or Giants on your team.
Seriously -- I've never had a single Eagles rival on any of my fantasy teams and have finished atop my leagues more than once and almost always make a playoff run.
Luckily this season numbers back up my vendetta.
In many offensive categories, NFC Easters just aren't picked to do much this season. Or a guy wearing Eagles green is predicted to put up similar -- or even better -- numbers.
Let's start by looking at running back.
The first NFC East rusher to appear on Yahoo!'s experts list is Philly's own Shady McCoy -- the second-year back rushes in at No. 18. The Giants' combo of Ahmad Bradshaw and Brandon Jacobs come in at 25 and 35; Dallas' two-headed rushing attack of Felix Jones and Marion Barber come in at 28 and 29 and D.C.'s Clinton Portis is No. 31.
So basically no one is expecting anyone in the NFC East to rush like crazy this season. So when picking a back, simply avoid picking in the Eagles division. There are plenty of young rushers like San Diego's Ryan Matthews, Kansas City's Jamaal Charles, Houston's Arian Foster and Detroit's Jahvid Best, who could be grabbed on draft day, and will likely best any of the top NFC East rushers.
Now let's move to quarterback.
Cowboys signal caller Tony Romo is picked as a Top-10 QB by NFL.com, ESPN and Yahoo rankings. But let's be honest! You would rather not rest your fantasy hopes on a Cowboy. And, looking at the stats from last season, Romo scored fewer fantasy points than a guy like Matt Schaub who should be available around the same time as Romo.
You know you don't want to pick former Eagles QB Donovan McNabb or Giants QB Eli Manning. And on most lists, both those QBs are projected behind Eagles QB Kevin Kolb.
Also take into consideration that even a middling QB like Matt Cassell put up Top-75 overall numbers in Yahoo leagues last season and you could easily avoid picking a top-tiered QB and wait until later in the draft when a guy with big upside like Detroit's Matthew Stafford could be plucked up. So bite the bullet. Don't waste a high pick on Romo.
As for wide receivers:
Dallas' Miles Austin is a popular late first-round early second-round pick. But guess what? Eagles playmaker DeSean Jackson should be as well -- especially in leagues where return stats count.
The Giants top fantasy target appears to be Steve Smith, while Santana Moss is still predicted to lead the Skins receivers. But neither of these guys is in the elite class of Jackson or Austin.
Let's be honest, though, wideouts in fantasy are a dime a dozen. Last year in point-per-reception Yahoo leagues, 16 receivers topped the 200-point plateau and another six guys were above 175 points. For every top-notch fantasy wideout like Larry Fitzgerald or Reggie Wayne there is an emerging star waiting to be gobbled up. Guys like the Eagles own Jeremy Maclin could be this year's Austin. Also look at Pittsburgh's Mike Wallace. He could break the Top-15 this season and like Maclin should still be around after the first few rounds.
Basically on this one avoid Austin and go for a guy like Green Bay's Greg Jennings, Baltimore's Anquan Boldin or Miami's Brandon Marshall in the second round instead of blowing a late first round pick on a Cowboy.
Now let's move to tight end.
Dallas' Jason Witten is projected as a Top-10 pick on most boards but guess who else is also up there -- Brent Celek. After those two Washington's Chris Cooley makes a good case to be a starting tight end but the Giants Kevin Boss should be nothing more than a backup.
Yes, Witten is a beast and few players seem as cool as Cooley but you could easily avoid picking either in 12-team leagues and still wind up with a worthy starting TE. Guys like Minnesota's Visanthe Shiancoe, Tampa's Kellen Winslow, Green Bay's Jermichael Finley and Oakland's Zach Miller are all Top-10 tight ends this preseason predicted to score within 25 points of Witten anyway, according to ESPN's rankings. They should all (except maybe Finley) still be on the board in the middle rounds. Let guys pluck up the likes of Witten, Celek, Antonio Gates, Vernon Davis and Dallas Clark and then you could swoop in and still pick up a really good tight end.
As for the defenses:
The Boys unit is a hot pick. But teams like the Bengals, 49ers and even the Texans could easily surpass Dallas this season. And don't even consider the other NFC East defenses considering Washington is switching to 3-4 and the G-Men have question marks all over the place. Honestly with D-Jax returning punts, the Eagles defense/special teams is a much better choice than either D.C. or New York and could even be better than the Boys unit.
Basically, if you follow the traditional rule of picking a D/ST in the later rounds, you shouldn't even see Dallas there. So just wait, you won't be tempted and you can pick another D instead of Dallas.
Finally as for the kickers…
Pick a guy the last round and just make sure he isn't Lawrence Tynes, David Buehler or Graham Gano. That should be easy.
Happy picking Eagles fans.