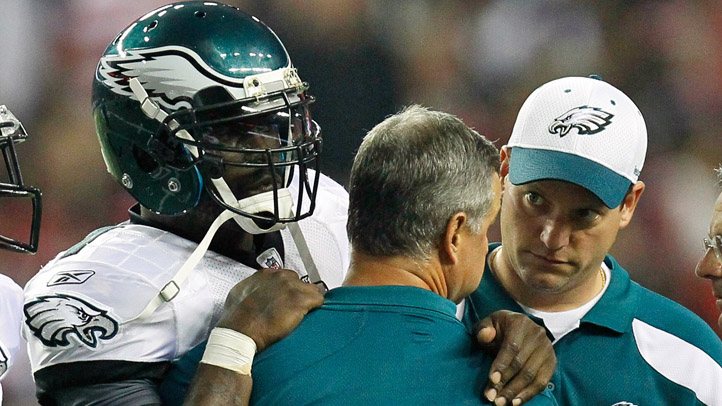 With Mike Vick in the locker room with a concussion the Eagles were forced to turn to backup Mike Kafka to try and mount a comeback in Atlanta.
Kafka was good but thanks to some porous red zone defense it didn't matter Sunday night in Atlanta as the Falcons went 5-for-5 inside the 20 to win 35-31 in the Georgia Dome.
Philly-area native QB Matt Ryan was harassed all night but still managed to throw for 195 yards and four TDs. RB Michael Turner scored with 4:48 left on his way to a 114-yard game to lead the Falcons to victory.
Ryan's favorite target was tight end Tony Gonzalez. The ageless one caught seven balls for 83 yards and two TDs.
Before being hurt Vick was up and down. He threw for 242 yards and two scores (103.6 passer rating) while running six times for 25 yards but he committed three turnovers (two fumbles, one interception) that led to 14 Atlanta point.
The interception likely shouldn't have been. Atlanta BC Kelvin Hayden appeared to catch Vick's pass intended for Jason Avant off the turf. But Andy Reid added to his poor in-game management resume by not challenging the play.
"I thought the guys battled," Reid said. "We just had too many turnovers, too many mistakes."
Eagles WR Jeremy Maclin had a career day -- 13 catches for 171 yards -- and got back after taking a hard hit from Dunta Robinson along the way but dropped the ball when it counted the most.
Kafka in relief was 7-for-9 for 72 yards and got the Eagles down to the Falcons 21 with less than two minutes left but Maclin was unable to hold onto a 4th-and-4 pass that would have given the Eagles a first down.
"I know Mike is upset about (not finishing)," Kafka said. "When you're hit like that, you can't do anything about it. It's out of his control."
The Eagles went up 31-21 with a LeSean McCoy two-yard touchdown run right after Vick's injury. But the defense allowed two fourth quarter scores to let the Falcons escape with the win.
S Jarrad Page and LB Jamar Chaney led the Eagles with nine tackles each but both guys were beat by Gonzalez and other Falcons multiple times.
Cullen Jenkins led the defense with two sacks and Nnamdi Asomugha and Asante Samuel each recorded their first interception of the season.
The Eagles 1-1 now head home to take on the Giants next week.