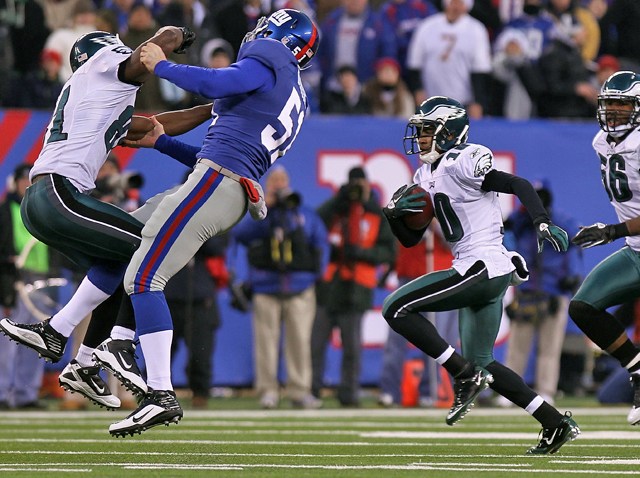 What do four touchdowns in 7:18 get you?
Well, a critical win over the New York Giants that will forever be known as "The Miracle at the Meadowland 2."
But also an ESPY it seems.
At least that was the case for the Eagles at ESPN's annual sports award show Wednesday night.
The Birds took home the ESPY for Best Game for scoring 28 points in the final 7:18 to dispatch the NFC rival G-Men.
Jason Avant -- who accepted the award along with LeSean McCoy and DeSean Jackson -- played a critical role laying down the final teeth-rattling block during Jackson's 65-yard punt return as time expired – the clinching play in the Eagles 38-31 victory.
"On behalf of the Philadelphia Eagles organization thank you guys so much we are so elated to win this award," Jason Avant said.
Big words from Avant considering the NFL Lockout lingers on.
I also was wondering if anyone from the Giants was going to show up to accept. I guess to the winners go the ESPY.
The comeback beat out Auburn football's comeback at Alabama, Pitt's and Butler's unbelievable finish in the NCAA Tournament and Oklahoma City's three-overtime thriller against Memphis in the NBA playoffs.
The Jackson punt return was also up for for Best Play but lost to Abby Wambach's amazing World Cup-saving header from earlier this week.