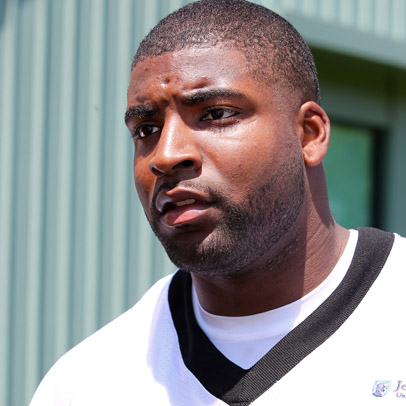 Jason Babin's calf strain and Trent Cole's shoulder joint swelling opens up an interesting training camp battle at defensive end.
With the Eagles Pro Bowl d-ends on the mend (for at least a couple weeks in Babin's case), a slew of rookies and veterans could battle to make the team.
It was then pointed out to Babin that the younger players -- like Brandon Graham, Phillip Hunt and rookie Vinny Curry -- could also benefit from his absence by getting to play against better competition. He was asked who he thought would benefit the most.

"I think that person will probably emerge at the end of this week," Babin said. "It will be obvious to everyone … I got a guy in mind."

Veteran Darryl Tapp will also be in the mix. The Eagles typically carry five ends on their 53-man roster, which would likely mean Tapp and Hunt could be battling for that last spot. The Eagles could just end up carrying six.
D-End depth was an interesting area to examine before the Birds landed at Lehigh but now with the guys in green in full swing the questions remain as to which guys fit best into Jim Washburn's scheme.
Coach Andy Reid fielded questions about his ends after Wednesday morning's practice.
"Those guys now have an opportunity to get more reps. We always preach that every rep you get is an opportunity to show what you can do and be able to better yourself as a professional football player. When another man gets hurt it gives you an opportunity."
Reid also didn't rule out carrying six guys. But don't be fooled. No matter which d-ends perform with the Pro Bowlers on the sidelines, the majority of playing time and especially sack opportunities will continue to go to Babin and Cole.