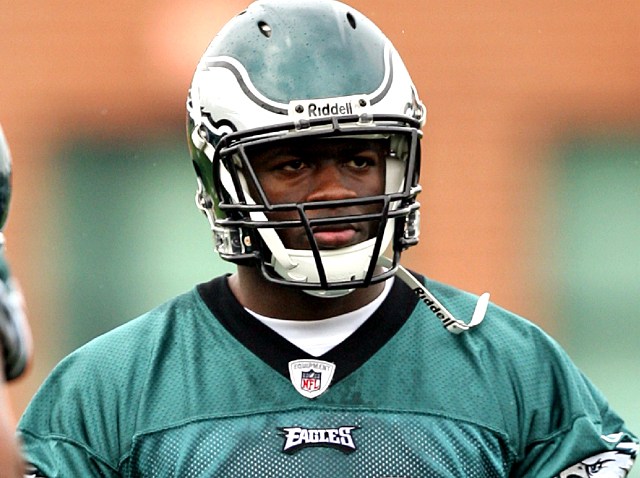 Cornelius Ingram. Macho Harris. Fenuki Tupou. Quintin Demps. Joe Mays.
When the Eagles picked these players in the middle and late rounds of the last two NFL drafts, fans expected them to be part of the team for years to come. Obviously there's a high attrition rate for all rookies, but the Eagles heralded their draft picks as steals and many of the players showed promise. Unfortunately, these five were just the most recent late round picks to be uncermoniously dumped.
The Eagles have always had a reputation for finding starters late in the draft. In 2005, it was Todd Herremans and Trent Cole. In 2006, they found Jason Avant, Omar Gaither, and Max Jean-Gilles. And in 2007, Brent Celek was a steal in the 5th round.
However, the 2008 and 2009 drafts didn't produce the kind of late round starters that became routine in the middle of the decade. In fact, of their 14 picks made in the third round or later, the Eagles have zero starters to show for it. Zero. Zilch. Nada. Nothing.
And, worse than that, only three out of the 14 drafted players are even still with the team. The remaing three are in fringe places too: Mike McGlynn as the third-string center, King Dunlap as an underacheiving backup tackle, and Moise Fokou as a linebacker who lost his chance at a starting role before training camp really got underway.
Sure, the Eagles scouts have had hits in the early rounds, with offensive skill players such as DeSean Jackson, Jeremy Maclin, and LeSean McCoy. But a year from now those three players easily could be the only ones left on the roster from the 08, 09 drafts.
The Eagles' philosophy has long been to stockpile picks in the middle rounds by trading back and being able to grab more players. That's how they scored 31 picks from 2008 to 2010. But that strategy only works if you find good NFL players in those rounds. If you trade back and don't get anyone even worth stashing on the practice squad, it's a colossal failure. Perhaps letting former general manager Todd Heckert move on to Cleveland made more sense than we thought...
This year new GM Howie Roseman drafted 13 players. Just like in the recent past, the top two picks (Brandon Graham and Nate Allen) seem ready to contribute early. But who knows if aything will come out of the next 11 players. Two of them are already gone. A third is on injured reserve. The rest are backups who've shown varying degrees of promise. Hopefully over time they'll break the pattern set in recent years.
If they can't, it will be tough for the Eagles to keep winning into the next decade.