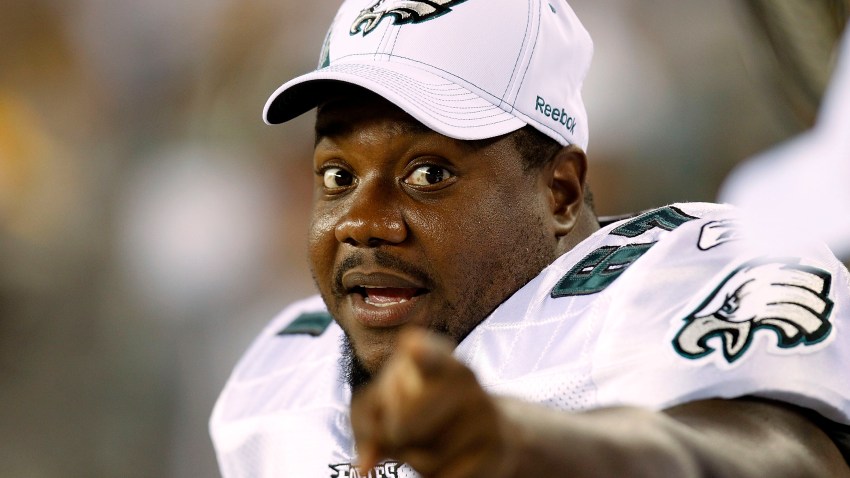 Free agency is nearly upon us, and the Eagles have just less than $10 million available to spend. Some of that money will hopefully go toward locking up young stars like LeSean McCoy. Other funds will be freed up when (if?) they trade Asante Samuel (sooner, rather than later if they want to make any free agent splash).
But there are some veteran players they can cut if they need more room under the salary cap. Here are the most five most likely:
(All figures from EaglesCap.com)
Jamaal Jackson - Cap Savings: $1.9 million
Jackson really should have been gone last offseason. Jason Kelce may not have been that good, but he's the future at center.
Winston Justice - Cap Savings: $2.3 million
Justice is only two years removed from signing that long-term extension. But then he was inconsistent in 2010 and injured in 2011. Presumably the Eagles will retain King Dunlap as swing tackle, making Justice expendable. And with his $4-million price tag, no one is going to be clamoring for him in a trade.
Darryl Tapp - Cap Savings: $1.6 million
Compared to other NFL defensive ends, Tapp played well in a rotational role last year. But compared to other Eagles players, he generated the least pressure. Why keep him around when you can get the same or potentially better production out of Philip Hunt, at one-fifth the cost?
Joselio Hanson - Cap Savings: $1 million
The Eagles already cut Hanson once right before last season, and he's turning 31 this year. Depending on how the coaches view the progression of young corners like Curtis Marsh and Brandon Hughes, they may decide it's time to give them a try instead.
Moise Fokou & Akeem Jordan - Cap Savings: $1.3 million
Alright, so this is two players. But both Fokou and Jordan are expendable, low-upside pieces at a position that the Eagles are likely to add anywhere from two to four new players this offseason.