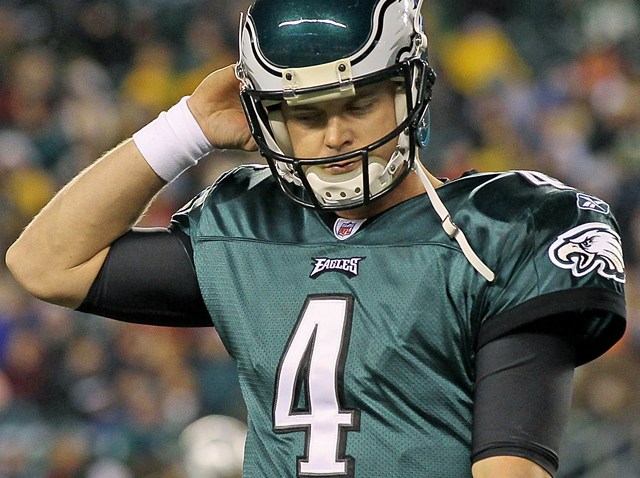 No Mike Vick. No DeSean Jackson. No Shady McCoy. That was a problem for the Eagles Sunday.
With the superstars in street clothes, QB Kevin Kolb, WR Chad Hall and RB Jerome Harrison were most of the offense while a collection of defensive backups held the Cowboys offense at bay for most of the day but a late Cowboys TD gave Dallas a sloppy 14-13 win that was played in rainy conditions.
Cowboys starting TE Jason Witten hauled in a 4-yard pass from backup QB Stephen McGee (who was making his first career start) with 55 seconds left on the clock for the winning score.
"We just ran out of gas at the end," coach Andy Reid said about the late collapse.
They also for the second-straight week allowed an opposing QB to get his first career win.
The Eagles rested most offensive and defensive starters except for LB Moise Fokou, WR Jeremy Maclin, C Mike McGlynn, G Max Jean-Gilles and FB Owen Schmitt.
Kolb, who played for the resting Vick, struggled throughout the game as he was sacked six times, threw three interceptions and lost a fumble that was returned for a Dallas TD. He managed to complete only 50 percent of his 36 passes for 162 yards and a score. His favorite target was Chad Hall. The 5-foot-8 wideout made the most of his increased playing time to catch six balls for 84 yards and a TD.
Harrison, who started for resting McCoy, was impressive while rushing for 99 yards on 21 carries.
LB Omar Gaither's 10 tackles led the way on the defensive side of the ball for the Birds.
The loss dropped the NFC East champions to 10-6 having lost two straight going into the playoffs.
So did the loss make Reid regret his decision to bench most of his regulars?
"I think it's the right thing to do for us," he said. "Other people do it other ways, but that's what I believe in. It gives everybody an opportunity to rest up, in particular in the short amount of time that we have here."
The game, though, was meaningless for the Birds. No matter the outcome they were destined to be the No. 3 seed in the NFC East. They will face the Packers who defeated the Bears 10-3 Sunday to clinch the No. 6 seed.
Green Bay (10-6) is set to play at the Linc at 4:15 next Sunday in a rematch of the famous 4th-and-26 Game, NBCPhiladelphia.com's John Clark tweeted.
At least Kolb found a silver lining on his subpar performance:
"I learned a lot out there today. Again, I knocked some rust off and hopefully the situation won't present itself because we obviously want Mike [Vick] out here but if it does, than I'll go out there as confident as ever and try to win the football game... Lead us to a Superbowl because we have a good group of guys here and everybody is focused on that one goal and we feel like we have a real shot to go and make a run."
One guy to monitor to see if he is part of that run is Jean-Gilles who was forced to leave the game with an ankle injury that Reid said would need to be monitored.