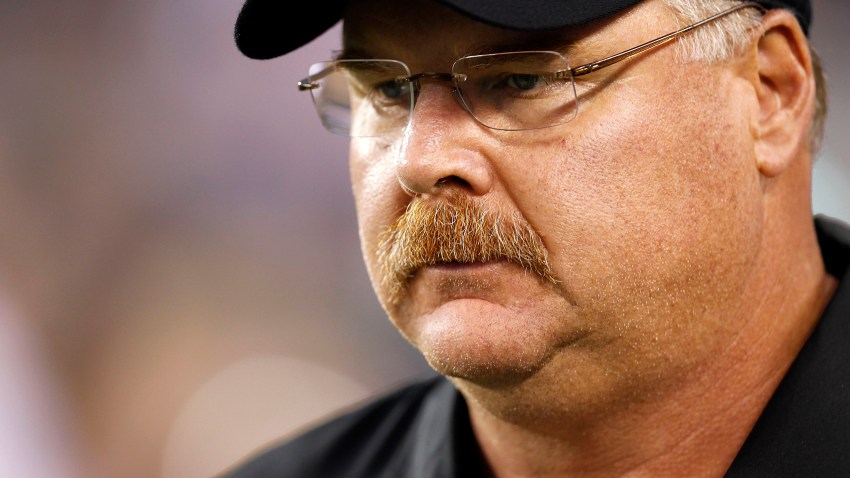 Let's be honest, the Eagles are flat out terrible and that has fans -- already frustrated by another era sans a Super Bowl champion -- calling for the head of the head coach.
Sorry bloodthirsty Eagles fans but after becoming the winningest coach in franchise history over more than a decade of mostly winning seasons, Andy Reid has earned the right to win his way out of the 1-4 hole his Eagles have dug for themselves.
So Reid likely isn't going anywhere right now.
But what about his staff?
Will Reid do the political thing and ax an assistant or two to show that he is listening to the angry masses or will he continue to go on with the knowing-better-than-everyone-else attitude that has a throat clear followed by a "I'll have to do better job at that" statement?
Let's hear from Big Red himself:
On whether there will be any personnel shakeups or benchings to send a message:
"I haven't done anything today, no."

On whether any personnel shakeups or benchings are possible for this week:
"Well, I don't know that. We'll just have to see."

On whether Castillo is still his defensive coordinator:
"Yes."
Hmmm. Notice how Reid answered those three critical issues.
1. He hasn't made any moves YET -- nothing RIGHT NOW.
2. He's possibly willing to make a move in the future.
3. The defensive coordinator is STILL his guy until he is no longer his guy.
Reid's Eagles have a history of not liking to admit ever being wrong. Part of Jeffrey Lurie and Joe Banner's "Gold Standard" is being the smartest guys in the room. But in this case Andy could be the coyest.
Reid could have easily said Castillo -- the Eagles ex-offensive line coach-turned defensive coordinator -- WILL BE the defensive coordinator for the rest of the season despite the Eagles defense allowing the third-most rushing yards per game (140.2), the most 40-plus yard plays (3) and causing the fourth fewest turnovers (5). But instead Big Red only stated the obvious that Castillo is his guy at that moment. Of course an employee is an employee until they are no longer an employee -- we all know that.
Despite perception, Reid actually has a history of some drastic and sudden changes. He suddenly told Terrell Owens to go home from Lehigh. He suddenly traded away Donovan McNabb last year and he, out of the blue, last season announced that Michael Vick would be his starting quarterback rather than Kevin Kolb even once Kolb returned from injury.
So, is it possible that Reid could be making changes to his coaching staff before the Eagles take on the first-place Redskins (3-1) in Week 6?
I think something could be done. Maybe Castillo will stay on but relinquish some play calling to someone else -- maybe secondary coach Johnnie Lynn or defensive line coach Jim Washburn could pick up some of the slack. Or Castillo could just be shown the door as the Eagles go outside the current staff to find a coordinator -- hey ex-head coach/defensive coordinator Jeff Fisher isn't doing much.
For now as Reid said, things are as they are but who is who on this staff could be different by the Washington game.