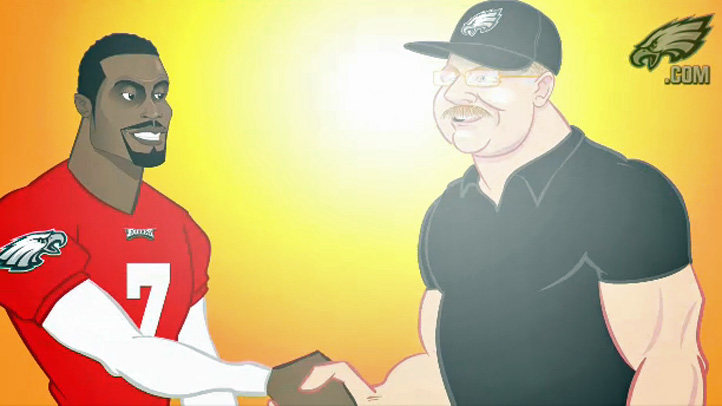 The best part of the NFL Lockout coming to an end isn't all the hot stove chatter or the fact that "hitting season" is about to begin again at Lehigh but rather that silly flash animation videos have returned to PhiladelphiaEagles.com.
Poof -- four-plus months of absurd posturing and back-and-forth theatrics from pizza parties to shared flights suddenly are gone just as quick as you can send an Eagles bus up to training camp.
What says "we're baaaacccckkkkk" better than a sweet embrace between cartoon QB Michael Vick and cartoon coach Andy Reid?
Also this reintroduction video could give us some insight into who is here to stay. In the video are guys like DeSean Jackson, Todd Herremans, Jason Avant, Trent Cole, Brent Celek and the aforementioned Vick -- absent are likely-to-be-gone veterans Kevin Kolb, David Akers and others.
Also let the rumors swirl about the future of any of the Eagles libnebackers with the team considering not a single one is in the video.
Or maybe I'm just looking a little too much into what is simply an advertising cartoon considering stalwart long-snapper John Dorenbos or punter Sav Rocca are in the video either.