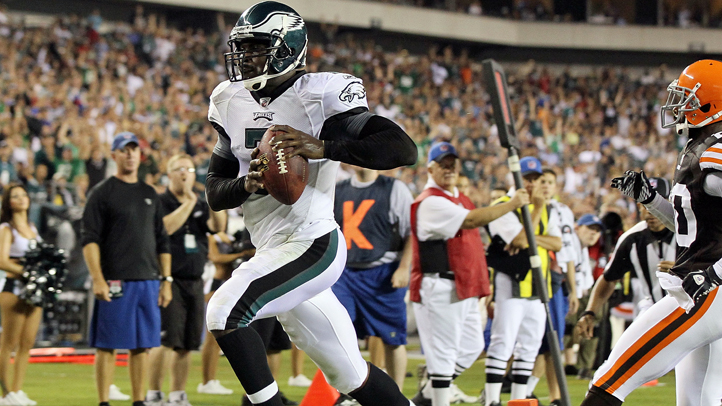 A week removed from looking overmatched in a 24-14 loss in Pittsburgh, the Eagles offense, defense and special teams all shined as the Birds beat the Browns 24-14.
The first team offense led by Michael Vick played the first half putting up 17 points despite a few miscues by the quarterback. Vick was 10 for 18 passing for 98 yards and no TDs. He also rushed four times for 24 yards and a score. But he fumbled twice -- losing one turnover – and was consistently pressured after another sketchy showing by the offensive line.
Vick praised his line but admits there is work to do.
"The offensive line did well. I'm proud of those guys, we can always improve starting with me. There are some things that I can improve on and it just goes back to us working hard each and every day."
Vick's favorite target was LeSean McCoy who had seven grabs for 69 yards. Shady also rushed for 12 yards on six carries. Rookie Dion Lewis led the team with 44 rushing yards on nine carries and McCoy's backup Ronnie Brown added a 13-yard TD run.
The Birds added a third quarter TD on a 10-yard run by backup QB Vince Young.
After being gashed by Ben Roethlisberger and the Steelers, the first team defense shined against Cleveland. Mike Patterson -- back from a health scare -- and Trent Cole both had sacks of Browns QB Colt McCoy and Asante Samuel did what he does by picking off a pass.
Asante summed up the first unit's evening:
"We're looking pretty good. We still have a lot of work to do and it was a good showing out here. We held the team in the first half to zero points. That's a pretty good showing."
Rookie middle linebacker Casey Matthews also looked better than last week recording five tackles and knocking down a pass.
The Browns finally got on the board in the fourth quarter as Seneca Wallace's pass was deflected to tight end Alex Smith for a 17-yard TD. And the score there was a strange moment when Eagles coach Andy Reid attempted to challenge the Browns' score. New rules state that all scoring plays are set to be reviewed no matter what so by Reid throwing the flag he received a 15-yard penalty for his team allowing the Browns to kick from the 50-yard line.
Cleveland added a late TD on Jarrett Brown's four-yard grab to cap the scoring.
The special teams also looked sharp blocking a first quarter Phil Dawson field goal attempt. On the ensuing drive long snapper Jon Dorenbos recovered a muffed punt that then set up Brown's TD. Rookie kicker Alex Henery was 3 for 3 on extra points and added a 37-yard field goal. And rookie punter Chris Henry looked good averaging 43.5 yards on four kicks while the Browns managed just five yards on three returns.
The Eagles (2-1) wrap up their preseason against the Jets next Thursday. It still isn't clear if Vick and the first teamers will play -- starters traditionally sit out the last preseason game.