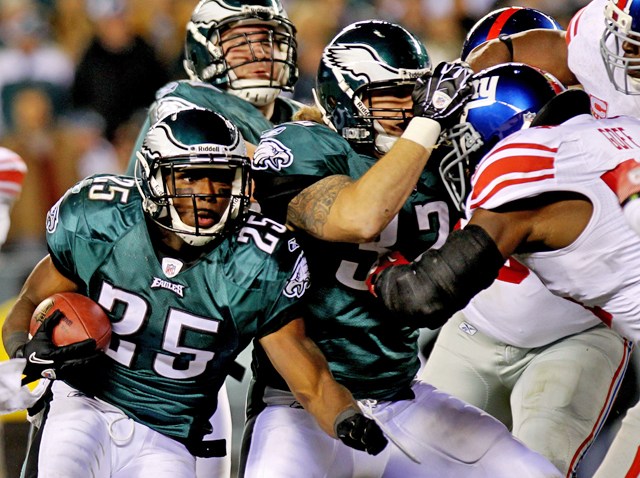 The 7-3 Eagles stand alone atop the NFC East after a huge 27-17 win over the rival Giants on Sunday Night Football.
It wasn't easy and it took a late dash by the man they call "Shady" to put the Birds up for good.
The Eagles overcame penalties, fumbles and an inaccurate Michael Vick to comeback from a 17-16 deficit late in the fourth quarter.
The key play was on 4th-and-1 with the Birds on the 50-yard line with about 4:30 left. Vick nearly lost control of the ball as he took the hand off. Somehow, though, he managed to flick it over to LeSean McCoy and Shady did the rest to score the go-ahead TD.
Shady would later add a 40-yard run to put David Akers in range for a nail-in-the-coffin field goal. Shady finished the night with 111 yards on 14 attempts.
The offense wound up putting up 393 net yards on the Giants No. 1-ranked defense. But the stars of the game were the entire defense.
The Eagles mean green D despite not having a sack held the Giants Top-5 offense to just 208 net yards and the G-Men's potent rushing attack to just 61 yards on 19 carries. They also forced four Eli Manning turnovers (three interceptions, one fumble) including a late fumble and two interceptions by ball-hawk Asante Samuel.
The game was marred by turnovers -- two by the Eagles, five by the Giants. And despite ten penalties for 119 yards including two 15-yard personal fouls on OG Todd Herremans, the Eagles managed to pull it out.
There was also a scary moment at the start of the third quarter as Eagles kick returner Ellis Hobbs was leveled with a non-penalized helmet-to-helmet hit. He lay on the field for about ten minutes before being stretchered off. Luckily he didn't break his neck and he was up and about in the locker room, NBC Sports reported.
As for Vick. He wasn't as sharp as he has been and allowed a fumble -- his first turnover of the season -- that was turned into a Giants TD. But he still managed to throw for 258 yards on 24-for-38 passing. He was hindered as well by some big drops including Jason Avant dropping a sure touchdown in the back of the end zone.
MV7's favorite target was Jeremy Maclin who had nine grabs for 120 yards.
Next up for the Birds is a Midway showdown with the 7-3 Chicago Bears in the Windy City. Da Bears are coming off a shutout in Miami and share the NFC North lead.