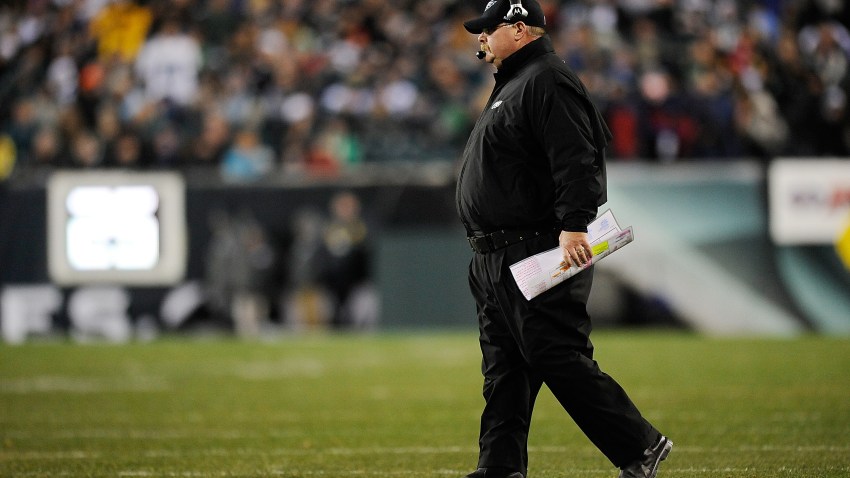 The Eagles have lost five straight games. That feat is a first for the team in the Andy Reid era, and it tells me one thing: it's time to fire the coach, now.
I don't see any reason that this team should play out the string pretending to be ignorant of the ending. Reid is a lame duck, and everyone knows it. He's going to be gone at the end of the season, even if they somehow rattle off a few wins to make things look respectable. Why drag out the inevitable? Let's combat possible counterarguments.
1. After 14 years, Reid deserves a chance to finish the season. I do think that Reid has deserved all the respect Jeff Lurie can give him after his years of service to this organization. But how is it better to let him twist in the wind for the next seven games, fighting for a job he knows he can't keep? Some people have suggested giving him the choice to leave now or stay, but I find that even more insulting. If you know you're going to make the move after the season, might as well cut that cord now.
2. Firing Reid will lose the locker room. By all accounts the Eagles players still love Reid and want him to stay. Too bad. It's not like having them on his side has done any wonders for this team so far. And, as it becomes increasingly clear that Reid's ship is sinking, do we expect the players to stay on board? No. There have already been signs that the locker room is collapsing with Reid.
3. Marty Mornhinweg (the logical replacement) isn't going to turn this around. Probably not, but Reid isn't either. Maybe you get lucky and experience a respectable dead-cat bounce like the one Todd Bowles helped create last year with the Dolphins. But if not, who cares? Losing may not actually be a bad thing right now. And either way, at least you're being upfront and straight with your coaches and players. No more delusion about the reckoning in store over the offseason.
There aren't many goals that this organization should be striving for in the remaining games. A respectable end would be nice for the fans. More losses would be beneficial for the 2013 NFL Draft. Seeing Nick Foles in extended action will help make a more informed decision about his future (snap judgment: he looks like an overmatched rookie). Evaluate the remaining players to see who needs to go and who might be a building block for the next generation.
None of these tasks require keeping Reid around to play out the rest of the season. Let him move on and spend time with his family before taking a new job in 2013. Let Howie Roseman and Jeff Lurie kickstart their search for a new head coach. And let's all move on.