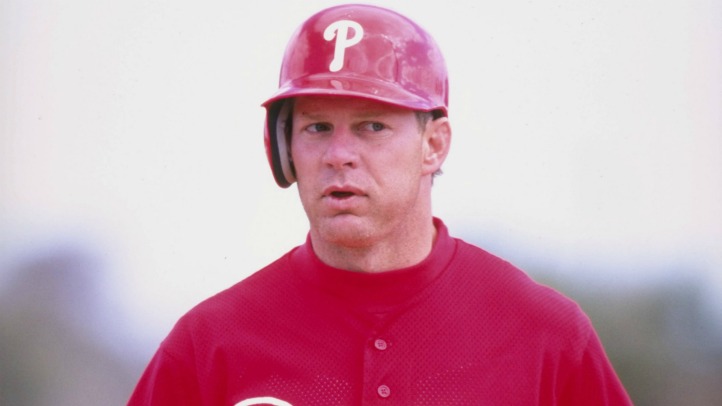 Have you heard the one about the former athlete who spends his vast fortune and spirals downwards into the seedy underbelly of bankruptcy, drug abuse and fraud before spending time behind bars?
Oh, you have?
Well, you can hear it again, thanks to former Phillie Lenny Dykstra, who was sentenced to three years behind bars on Monday, stemming from grand theft charges following an investigation into the former All-Star's business dealings.
In an article for Sports Illustrated, David Epstein detailed the fall of Dykstra, who not too long ago, was living the high life thanks his sharp business acumen and a successful car wash business in California. But like so many athletes before him, the one called "Nails" lost it all, thanks to a combination of bad investments, greed, and above all, hubris.
Epstein's column is a detailed and interesting read, and he chronicles the investigation, soup-to-nuts, from the detective working the case, to the accomplices that Dykstra brought in to help propagate his many lies, to the slip-ups that finally proved to be the nail in "Nails" coffin.
I won't go into too much detail here -- I'll let Epstein's piece speak for itself -- but here are some quick hits that serve to paint a rather vivid portrait of Dykstra:
He tried to break former teammate Dwight Gooden out of Celebrity Rehab, when the former pitcher appeared on the show in 2011, as he underwent treatment for cocaine and alcohol.

In a completely non-suprising turn of events, he teamed up with Charlie Sheen to create a line of energy drinks, as well as electronic cigarette that they called "Nico-Sheen." Those plans have since fallen through.

On a tip received from a former personal assistant, police learned that Dykstra failed to delete a series of incriminating emails that would ultimately linked him to another one of his accomplices. You'd think that a guy who had a knack for playing the stock market would have better sense than to not cover his tracks.

Throughout the piece, it's alleged that Dysktra forged pages upon pages of bank and financial statements in an attempt to bolster his credit and to procure properties and vehicles.

Perhaps his biggest mistake came when he tried to fleece a Los Angeles car dealership that just so happened to have one of the L.A. Police Commissioners as their general counsel, which only served to hasten Dykstra's fate.

According to one of his accomplices, Dykstra's carefree life was the result of being told, by a fortune teller, that he'd die at age 52. The irony is that a half-decent soothsayer could have steered him clear of some of those bad investments.
All told, it's a very good read, and it paints a picture of Dykstra that is not too dissimilar from so many con-men in movies. Sharks that can spot a rube a mile away, only to bring them into the fold for the express purpose of extracting something from them. In Dykstra's case, the lure of the high-life led his pawns to him, and their trustworthiness and naivete proved to be their own downfall.
For some, Dykstra will forever be the scrappy, tough centerfielder who had a moderately successful Major League career, and the indelible image of a wad of chewing tobacco wrapped in bubble gum. For others, he will be no different than other has-beens: Done in by his own devices and the same stubbornness and relenting will that made them such successful athletes in the first place.