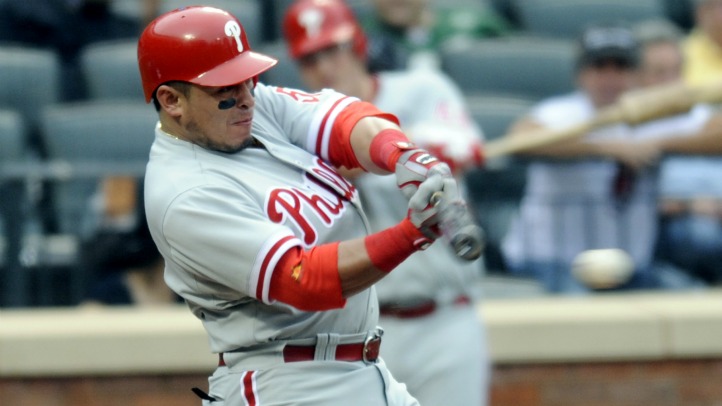 Good teams look at every player on their roster in an effort to get better from season to season, something that the Phillies should be doing as they prepare for the (official) start of the off-season.
As you do your evaluations, it is impossible not to notice the big dropoff on offense Carlos Ruiz experienced in 2011. After posting a .302 batting average, .400 on-base percentage and .447 slugging percentage in 2010, Chooch fell to .283/.371/.383 in 2011. He still played good defense and remained a trusted partner to the pitchers, but that was a significant drop in run creation in a lineup that could hardly afford it.
That might lead you to ask what's wrong with Ruiz. The answer is nothing.
Ruiz didn't fall off a cliff in 2011, he merely returned to his previously established level of play. Actually, he returned to a level that was above his pre-2010 production at the plate which makes it pretty clear that 2010 is going to be an outlier on his career resume when Ruiz's career comes to an end. The biggest changes came in his batting average on balls in play (.335 to .308) and the percentage of his fly balls that turned into home runs (7.2% to 4.4%), two things which history tells us the batter has very little control over.
Bill Baer at Crashburn Alley also points out that Ruiz's luck was much worse on ground balls, which is a big factor in his overall numbers because he hits more ground balls than anything else. A handful of hits is all it takes to spike a batting average, something that can get lost when looking at numbers outside of context.
All that leaves us with easily understood reasons why Ruiz's numbers fell and any concern about that drop should be buoyed by the fact that Ruiz remains in the top half of catchers in baseball offensively. That means he isn't someone worth worrying about for 2012.
What you should worry about is the years coming after 2012. Chooch will be 33 at the start of next season and his numbers aren't likely to get much better in the years to come. Brian Schneider isn't the next catcher in Philly, obviously, so it would behoove the Phillies to start thinking about a succession plan behind the plate.
For now, though, Ruiz is a player who the Phillies should feel comfortable relying on even if his 2010 season never comes our way again.
Copyright FREEL - NBC Local Media