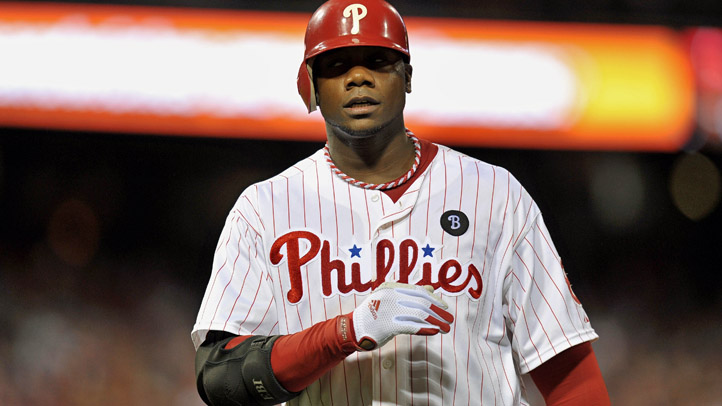 It goes without saying, but this hasn't been a good week for the Phillies, injury-wise. Not only is Roy Halladay on the shelf for a couple months, but Carlos Ruiz – the team's best offensive player – hasn't played since Sunday due to an ailment of his own. And now, it looks like Ryan Howard won't back for at least another month.
CSN Philly's Jim Salisbury has more:
Amaro was asked if he believed Howard could be back before the end of June.

"I don't believe so," he said. "I don't think so."

Could Howard be back by the All-Star break?

"I don't know," Amaro said.
Normally, I don't trust anything that comes out of Ruben Amaro's mouth, for he is a deceitful man when it comes to the status of his players, and therefore cannot be trusted or taken at his word. But in this instance, I really don't know what to think. Usually, he does some form of double-speak where he answers a reporter's question with a question of his own, but not this time. "I don't know" was all he could come up with.
However, it's quite likely that Amaro, in fact, does not know about Howard's status and whether or not he will be back within the lunar cycle. Reason being is that only Howard truly knows when he will be back, and the last thing Amaro wants to do is rush an injured player back onto the field and risk causing another setback, like the one that caused Howard to be shut down indefinitely during spring training.
And although it appears that Howard is progressing with his rehab, it makes perfect sense for him not to be close to coming back. After all, that's just the way things are going for the Phillies this season. Not only are player updates few and far between (when is the last time we heard anything about Chase Utley?), but they have rarely been positive.
So, what does this mean for Howard? Who knows. It's possible that they are just being thorough and making sure that he is absolutely ready to go, and it doesn't make any sense for Amaro to give false hope about his return. That said, I'd say that we can expect the big man to be back in the lineup at some point in July, barring any setbacks.
I still say that the Phillies just need to keep their heads above water until Ryan Howard, Chase Utley (and now) Roy Halladay return. Whether it's June, July, or March of next year.