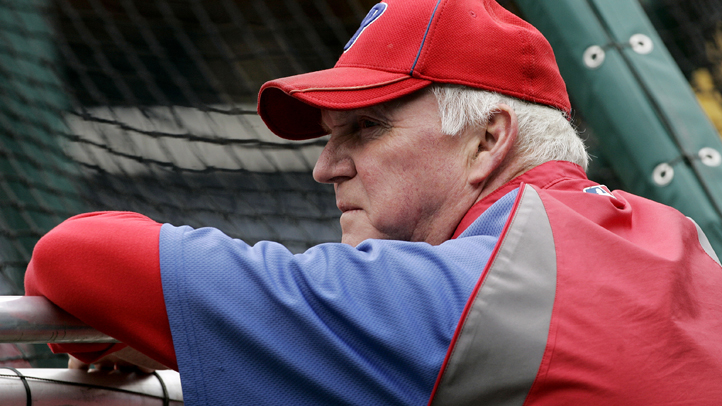 The Phillies only scored three runs in two games on Tuesday, firing up concern once again about the team's ability to put enough on the scoreboard come the playoffs.
After all, if Tom Milone, Ross Detwiler and the Nationals pen can do this to the Phillies, it is reasonable to wonder what good pitching will do to the bats. As well founded as those concerns are, however, there's also good reason to believe that this isn't an omen of anything particularly bad.
The biggest vote in favor of keeping the finger off the panic button is that the Phils haven't been running their regular lineup out for some time. The lineups in each of Tuesday's games was filled with players who are only in the big leagues to provide rest for the regulars and the Phillies have been playing backups almost every night to keep the important players ready for postseason play.
The one time that the Phillies ran out a full lineup in the last week, they scored nine runs against the Cardinals. That's a reassuring note while you try to wrap your head around five losses in the last six games. While it would be nice to win every night, it is far better for Charlie Manuel to keep his troops ready for the start of the playoffs.
That's not the only reason to grit your teeth and accept an offensive downturn. The other one has to do with the makeup of that regular lineup.
The Phillies are a veteran team and they've gone to this playoff rodeo in each of the last five years. That gives you an idea of what it will take to win once the calender flips to October and it tells you what you need to do to peak at the right time.
We're at the tail end of a very long season. The Phillies haven't had much pressure on them for the majority of the season. With the division title taken care of, there's absolutely nothing to do right now other than make sure that everything is good to go for the playoffs. It's only natural that such a scenario would lead to a bit of mental slacking off. It might not be ideal, but it is human and it is something that can change pretty quickly with a team as experienced as these Phillies.
None of this guarantees that the bats will spring to life, of course, but they are reasons to believe that things will get better soon enough for the team to make another strong run in the playoffs. Now's the time to have a little faith in the crew that ran away with the National League.
Copyright FREEL - NBC Local Media