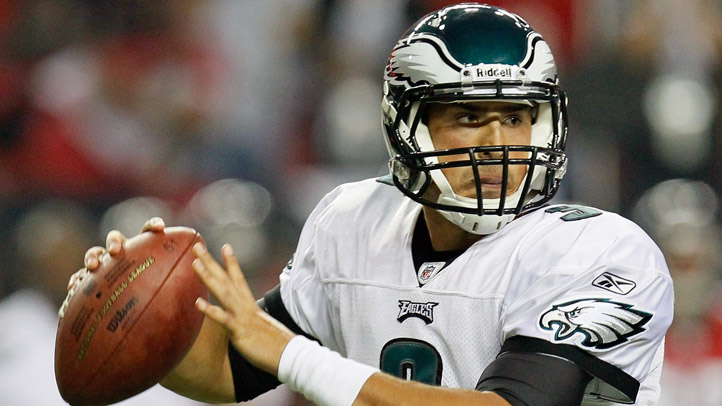 Reuben Frank over at CSN Philly put out his list of the Top 10 roster battles heading into training camp. He hits on some of the biggest ones: Atogwe vs. Coleman, Rolle vs. Chaney, Hanson vs. Boykin. But he also lists a bunch of questionable ones:
Dion Lewis vs. Bryce Brown? I'm excited to see if Brown can make the transition to the NFL. He clearly has 5x the physical potential of Lewis. But I'm not really seeing the competition for backup running back. There's just no way Brown is going to come in after sitting out nearly all of college and immediately pick up the complexity of the Eagles offense and the intricacies of pass blocking, other essential bits. Then again, don't read this as an endorsement of Lewis, who seems like a poor backup to one of the best players on the roster.
Riley Cooper vs. Damaris Johnson? It's unclear whether the Eagles will keep five or six wide receivers, but I don't really see the big receivers competing against the smaller ones. Cooper and Marvin McNutt would serve similar roles on the roster, as would Johnson and Chad Hall. Those are the real one-on-one battles. Winners of each competition will be guaranteed a spot on the roster. After that, all they can do is hope the Eagles keep six guys.
Clay Harbor vs. Brett Brackett? With the Eagles using more two tight end sets, the question is really whether Brackett can play his way onto the roster -- not whether he can beat out Harbor, a more experienced player and much better blocker.
Mike Kafka vs. Nick Foles? As with Lewis/Brown, this isn't a ringing endorsement of Kafka. But Frank is the first person to suggest that Foles even has a shot to replace him in his rookie year.
Ahead of all of the above, I'd rate these battles: Demetress Bell vs. King Dunlap, Jaiquawn Jarrett vs. the Chopping Block, Derek Landri vs. Antonio Dixon vs. Cedric Thornton.