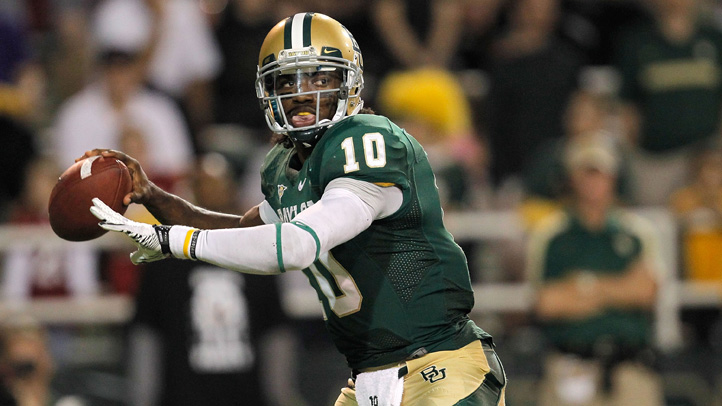 Heisman-winning quarterback and draft analyst man-crush Robert Griffin III met with the Eagles at the NFL Combine late last week, sparking a mini-resurgence of speculation (read: hope) that by some twist of fate RG3 could be coming to Philadelphia.
Jimmy Kempsi wrote, "it wouldn't be a complete shock to see the Eagles make some sort of blockbuster trade to move up to 2 to get him." He goes on to make some good points: Michael Vick will turn 32 before the season starts, his contract isn't really for the full six years, and the cost of paying a first round quarterback isn't prohibitive any more. Despite those reasons, there are still major barriers to bringing Griffin to the Eagles.
Let's start with the fact that the Eagles are completely outgunned in trade negotiations. All indications are that the Rams are looking to sell out of the second overall selection. Do you know what it would take for the Eagles to even get into the conversation for that pick? According to the draft value chart, giving up the Eagles 2012 1st, two 2nd, 3rd, and 2013 1st round picks still leaves the team coming up slightly short.
For comparison, let's take two of the teams cited most often in trade rumors: the Browns and the Redskins. Cleveland has the 4th and 22nd overall picks. Just those two selections are already worth more than the massive Eagles bounty described above. Former Eagles GM Tom Heckert definitely has the inside track on Griffin. Washington, meanwhile, could match Philly's offer with just their 1st and 2nd round picks this year and 1st rounder next year.
You can draw comparisons with Vick today and Donovan McNabb in 2007, the year the Eagles drafted Kevin Kolb, but the cost is so much more prohibitive for Griffin. Using an early second round pick when you already have a starting quarterback is questionable, forfeiting almost your entire draft is prohibitive.
And that brings up the second major reason to shoot down any Griffin ideas: the opportunity cost is far too high. Giving up that many high picks would mean ignoring needs at a bunch of positions, including linebacker, defensive line, cornerback, and wide receiver. Given the general lack of young talent, especially on defense, the Eagles cannot afford to waste the opportunity to finally get a good, full draft.
Drafting Griffin, despite these concerns, would be writing the next year or two off. The Eagles front office would be admitting to the fans and — more importantly — a veteran group of players that they can't win in 2012. They would be telling Michael Vick, who everyone hopes will work to improve himself this off season, that he's not really their franchise player. That could be a disaster.
What it comes down to is that the timing is off. Tommy Lawlor called the situation "awkward," but it's more than that. 2012 is shaping up to be a make-or-break year for more than just Andy Reid. Vick needs to get back to his 2010 form. DeSean Jackson, if he even accepts the franchise tag, could be gone after 2012. Veterans like Cullen Jenkins, Nnamdi Asomugha, Jason Babin, and Trent Cole may only have a year or two of high-level play left, and poor drafting has left the cupboard bare behind them.
Next year should answer a lot of questions about this team and the way it's constructed. The Eagles could rebound and make a playoff run, in which case you will want a strong crop of young players in place to fill in the holes and keep up the momentum. Alternatively, if the Eagles flop there will be a NovaCare house cleaning like we haven't seen since 1999. In that case, the team will be in a natural position to draft a new franchise quarterback and rebuild around him going forward.
Watching RG3 highlights is intoxicating, and I would love it if he ended up with the Eagles. But it's not going to happen. Let's just make that clear.