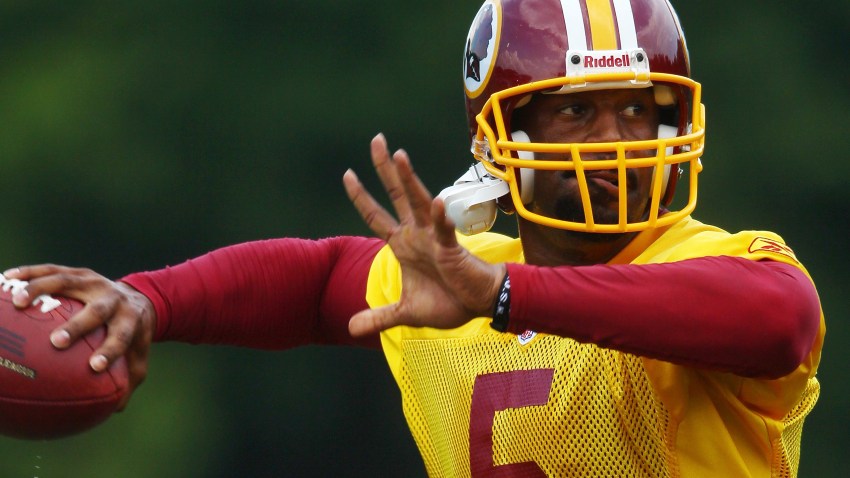 With no Eagles executives willing to talk about the trade of Donovan McNabb, reporters have had to go to the next best thing: former members of the Eagles front office.
The most expert of these now outside observers is former General Manager Tom Heckert, who presided over five extremely successful drafts before leaving in the offseason to take a similar job in Cleveland. Heckert and Any Reid drafted Kevin Kolb and kicked-off the long term transition that ended with Donovan McNabb's trade a few months ago.
Heckert's intimate knowledge of the Eagles' thought process makes him an inviting interviewee, as Paul Domowitch found in today's Daily News. Let's see what we can learn from these few quotes:
"We felt when we drafted [Kolb] that he was going to be our future... When that was going to be, that was the question. But we knew it was going to have to happen somewhere down the line. We always said if Donovan didn't play well or we were able to get something pretty good for him, we'd [trade him]."
This confirms our notion that trading McNabb was a long time coming. The Eagles always intended to replace him with Kolb and weren't struggling to decide which quarterback to ride into the next decade.
"[McNabb] didn't want to play [in Cleveland]. He wanted to go somewhere where he felt he could win right away. He didn't say he absolutely wouldn't play here, but it was pretty clear he wasn't enthusiastic about it."
There's two takeaways here. One, although Heckert maintains that the Browns were not big suitors for McNabb, he lets on that they at least got to the point in discussions where McNabb was involved. It wasn't like they weren't interested or were immediately deterred by the Eagles' asking price. Two, Heckert confirms the idea that Donovan had huge input, at least indirectly, in the trade decision. Also, he says nothing about his team's probable interest in Kolb.
Finally, the money quote about trading with an NFC East rival, the Washington Redskins:
"I was [surprised] because I wouldn't have done it. But I don't think they had much else [other offers]. And even if they had a choice - everybody talked about Oakland being interested - I don't know that Andy would've done that to Donovan if he didn't want to go there. He wouldn't screw the guy if he had something else."
The combination of Reid wanting to do right by McNabb and McNabb not wanting to languish in obscurity clearly accomplished one thing: Donovan was sent to a team that both men thought could be a contender. Heckert describes the natural reaction many people had to the trade, which is that they wouldn't have sent McNabb within the NFC East.
Perhaps if Heckert had still been in Philly, then McNabb would be in Oakland right now, but it's tough to say. Is Reid really that sentimental that he would sabotage his own team's chances of winning? Much of the circumstantial evidence suggests that he might have cared about McNabb enough to do just that.
But what if that's not true? What if Reid wanted to send McNabb somewhere that he would accept, but didn't think it would hurt the Eagles? In other words, what if his kindness was really just a statement that he was no longer confident in Donovan's abilities.
The conventional storyline revolves around the Eagles coach not caring about the danger of trading McNabb within the division because he has a philosophy of just taking the best offer no matter what. But at the end of the day, Reid must not think McNabb is anywhere near the elite quarterback that he once was. Otherwise, the trade makes no sense at all.