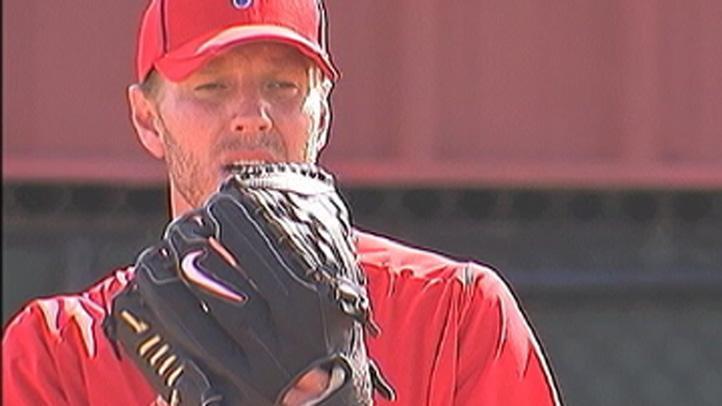 Should the Phillies worry about their ace Roy Halladay's spring performance? In a word, no. In two words, goodness no. In three words, are you serious? In four words, this joke is played.
Despite reports that his fastball has lost a thing or two -- a report that Halladay himself has rebuked -- there is absolutely zero reason to be concerned with the ace's health or performance during spring training.
Why? Because the thing about spring training is just that... it's training. Players are working on specific parts of their game -- pitchers especially -- so whatever happens in the month of March is typically not indicative of future performance. That's why Dom Brown still had a decent 2011 despite being practically hitless last March, and why the journeyman pitcher will get released in May, even though he had a 1.20 ERA during the spring.

In short, spring training really doesn't mean too much. And in the case of Halladay, who is the owner of a 10-plus ERA thus far this spring, it's means even less, because if there is one guy that you don't need to worry about, it's Doc. Even though he isn't mowing down hitters like it's his job, that doesn't mean anything. With a long season ahead of him, Doc is doing what he needs to do to make sure he can toss another 240 or so innings, and that often consists of working on specific pitches, even if it results in the opposing hitters teeing off on them.
Predictably, Halladay didn't take too kindly to the assertion that he was injured or messing up his mechanics, and quickly shot down the erroneous reports, courtesy of David Hale of DelawareOnline.com:
"That's poor reporting," Halladay said. "The extreme end of poor reporting. It couldn't be further from the truth."

Now, it's entirely possible that Halladay is slowing down with age (which is unlikely, considering that he is not technically "human"), and that his pitches don't have the same bite that they used to, but spring training certainly is not the appropriate time to make that judgment. Especially when he's got a handful of starts to go before opening day, which is an eternity to a starting pitching who is ironing out the kinks after the offseason.
But, this is what happens to writers during spring training. There isn't a lot going on, the standings don't matter, and the games are over by 4 in the afternoon. Who can blame them for letting their imagination get the better of them?