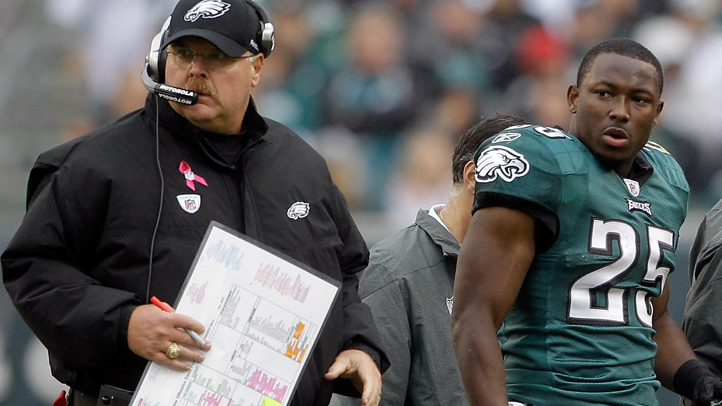 In the aftermath of the relatively quick and painless contract agreement with LeSean McCoy, the scuttlebutt has centered on the changes in the Eagles front office. All the key figures remain the same, but team president Joe Banner was nowhere to be found and words during and after the press conference suggested that coach Andy Reid had an increased role in the negotiations.
So what, exactly, has changed? For that, we have opposing takes from rivals/colleagues Les Bowen and Jeff McLane. Bowen takes the angle that Banner is increasingly isolated from the public eye and, seemingly, negotiations. This marks a relatively large change in the organization. McLane sees it differently:
Most of the changes within the front office have centered on public relations and can be summed up as such: Andy Reid has been more accommodating, Howie Roseman has been nudged into the spotlight, and Joe Banner has taken a step back behind the curtain.
The key thing that McLane omits (or, I suspect, willfully ignores) in his contrarian analysis is that changing the public perception and the outward attitude is a change in strategy. Of course we're not talking about a radical front office change of direction -- it's all the same guys at the NovaCare Complex, after all. But the idea that Roseman is handling negotiations because he's less of an abrasive jerk at the table means something. Reid's presence may be a facade placed on top of the same front office, but if it changed how McCoy, Roseman and (McCoy's agent) Drew Rosenhaus interacted, that matters.
Whether Reid and Banner purposely created or merely fell into their good cop/bad cop roles, it was obvious that they believed it worked. I expect that the combination of DeSean Jackson's sulking and Asante Samuel railing against the guys upstairs prompted a reevaluation of that strategy. After such an awful season, revisions were required both on the field and in the front office -- a marginalization of Banner and alignment of Reid's player-friendly attitude with Roseman's less intimidating demeanor serves that goal.
The results, despite what McLane says, haven't been the same:
That's been the blueprint for years. Last year's free-agent frenzy wasn't the first time the Eagles spent freely. This year's taking care of their own wasn't the first time they rewarded their best loyal charges.
That's accurate in general. But in recent years the Eagles have often seemed disinterested in renegotiating veteran contracts (Cole, Herremans) or extending young stars (Jackson, McCoy). And last season's free agent splurge was especially out of character. The team is always in the market for top players, but rarely have they gone out and bought multiple veteran starters. Nor did the front office pretend that anything was business as usual with that last training camp.
Making extensions a priority this year, even for players for whom they could have forced to play for their current deals, shows a re-focused strategy that stems from the re-organization at the top. It's only a change in attitude, but that more positive demeanor makes a difference. Just sticking with McCoy, Bowen is correct in his counter-factual Banner-led negotiations. Things probably wouldn't have gone quite so smoothly:
They could have stuck to their guns on the fact that Houston's Arian Foster, whose deal proved to be the benchmark, had negotiated that contract as a restricted free agent, a crucial difference. They could have made McCoy choose between either signing a contract that was a solid financial notch below Foster or risking injury this season, to possibly end up being franchised, with no long-term commitment at all. They could have pressed their advantage a lot harder.
Jackson looked like he was headed for a Jeremiah Trotter-esque walk out of town. Cole might have grown as unhappy as his former teammate Sheldon Brown. And McCoy seemed destined for a classic Brian Westbrook holdout. That none of those things came to pass speaks to a positive change within the organization. You can try to hide it behind a "business as usual" or "just public relations" tag line, but the results say otherwise.