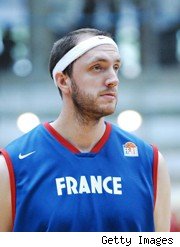 Phillies Ace Roy Halladay took his first steps toward returning to the mound on Thursday, when he allowed three runs on six hits and three walks. He struck out four, and needed 87 pitches. That news comes courtesy of MLB.com's Todd Zolecki.

To start, that's great news. Earlier this year, Halladay was a shell of himself, and it was, at times, very painful to watch him labor through starts where he didn't have any control of where the ball was going. Finding out that he had an injury was actually kind of a relief, because it at least there was a reason for why he was struggling a year or so removed from dominating National League hitters.

And say what you want about the merits of a rehab start against a bunch of minor leaguers who aren't old enough to legally buy alcohol in the state of Pennsylvania, but my enthusiasm in the wake of hearing about how Halladay performed vacillated between pure indifference and "meh." Maybe it's the fact that the season is lost, and that not even the great Doc can save the Phillies from one of the worst records in baseball, but I just can't find a reason to get excited about him rehabbing in the middle of August.

Now, that's not to suggest that it isn't a good thing that he seems to be recovering nicely from shoulder surgery. Of course, that's awesome. Considering the amount of miles on his right shoulder, it's nothing short of amazing that he should be able to continue his career, and I want nothing more than for Halladay to don the red pinstripes in 2014 and pick up where he left off when 2011 ended. Even if his rehab start line wasn't that impressive, the fact that he was able to return to the hill this season is something of an encouragement.

That said, count me among those who won't lose any sleep if Doc doesn't throw another pitch for the Phillies in 2013. If he is 100% healthy and showing no ill effects or lingering injury issues, then there should be nothing preventing him for toeing the rubber at Citizens Bank Park at least one more time before the season is out. However, the Philadelphia Inquirer's Matt Gelb went ahead and tweeted about how Halladay will make "at least one more rehab start." That bit of information came, of course, from General Manage Ruben Amaro.

I should hope so. In fact, I would expect Halladay to not only make at least one more rehab start, but several. It's the first time he's had live game action since May 5, so it's almost as if they should treat his rehab like a sort of Spring Training. By his own admission, Halladay wasn't crisp, and his velocity (which is reported to have topped out at 91 MPH), wasn't where he ideally needs it to be if he wants to return to the same form that he had in 2010 and 2011.

And to be completely honest, there is no reason for Roy Halladay to return this season if he is just going to pitch like he did before he went on the DL. The fact that he had his shoulder surgically repaired ought to go a long way in that regard, but what difference does it make, really, if Doc doesn't return this year? The focus should be on his rehab, the off-season, next year's Spring Training, and finally, the 2014 regular season.

Part of my resistance to Doc coming back is based in the fact that the Phillies don't have a great track record when it comes to the health of their players. There seems to be a definite disconnect between the front office and the coaches, and the coaches and the players, so much so that you never can tell what the actual story is. Plus, this is the same team that didn't think it was necessary for relief pitcher Mike Adams to make a rehab start before returning to big league action this year after missing time with an injury.

And when it comes to Halladay, the volume is turned up to 11, so they need to be excruciatingly careful with him, lest they bring him back too early and send him out there when he has only average stuff. I would love it if Doc could dominate opposing hitters again this season, but the Phillies should make his health, and 2014, the priority.