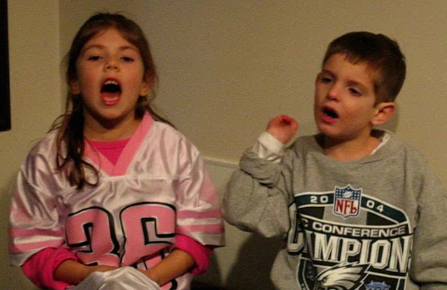 Do you bleed Eagles green? Do you spend hours teaching your dog to bark the Eagles fight song? Well, we're looking for the biggest and best Eagles fans.
We want you to send in your best original videos showing that you Believe in Green. Sing a song, do a dance, make a movie…it doesn't matter, just show us how much you love the Eagles.
We will showcase the best videos right here on NBCPhiladelphia!
You can send in your videos by clicking here.
Here are a few videos that have already made the cut:
Fly Eagles Fly

6 1/2-year-old Nicole and 5-year-old Nathan Gale love singing the EAGLES fight song!
Molly Sings Eagles

Where other 2-year-olds sing Row the Boat, she sings the Eagles (and Phillies) songs. Mom Anne says Molly constantly belts out the Eagles Fight Song!
Some Eagles Inspiration

This little tike is showing the Eagles some inspiration.
Think you can do better? Send in your video by clicking here.