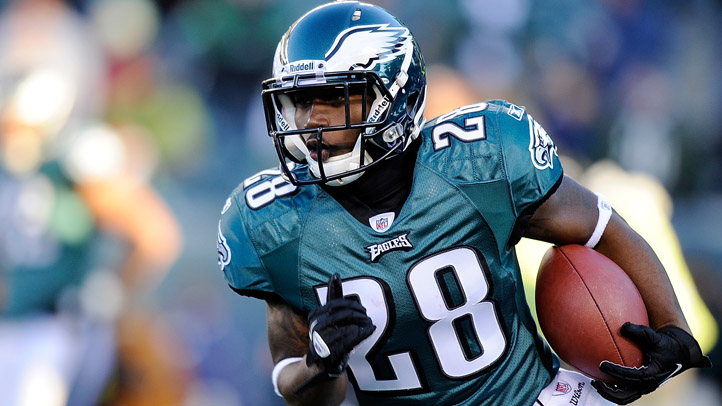 A night out in his hometown ended in Dion Lewis' arrest after he and his brother allegedly pulled a fire alarm at an Albany, N.Y. hotel.
Here is what led to the Sunday morning arrest of the Eagles running back and kick returner on falsely reporting a fire and reckless endangerment charges, according to Albany Police Public Information Officer Steve Smith.
After a night out on the town, Lewis, 21, and his brother Lamar were returning to Dion's room at a Hampton Inn around 4:40 a.m. when they got locked out of the sliding glass doors to the hotel lobby. The men allegedly tried banging on the doors but no one heard them, Smith told NBC10.
Both the Eagles running back and kick returner and his older brother appeared intoxicated at the time, police said.
At some point one of the brothers allegedly pulled the fire alarm, cops said.
The brothers were arrested without incident and Dion was arraigned on the charges (the false report charge is a low level felony) Sunday and was released on his own recognizance. Lamar Lewis was kept in custody because he has prior convictions including prison time, Smith said.
A manager at the Hampton Inn told the Albany Times Union that the doors to the hotel are locked after midnight unless you have a room key.
Lewis played high school football in Albany before transferring to Blair Academy in North Jersey. He would go on to play at the University of Pittsburgh before the Eagles drafted him the fifth-round of the 2011 NFL Draft.
"I want to apologize to my family, the Albany community, the Eagles organization and fans, and to the NFL for my involvement in an incident this past weekend," Dion Lewis said in a statement released by the Eagles.
"It was never my intention to cause any public alarm or damage any property. I am sorry for any embarrassment and inconvenience that my actions have caused. I am committed to continuing to conduct myself in conformance with the high moral, ethical and professional standards that I have my entire life and of which so many others rightly expect of me. Because the matter is still in the hands of the court system, I cannot comment any further."
In a statement to NBC10, the Eagles organization says that they are aware of the arrest and spoke to Lewis about it.
"We are aware of the incident involving Dion Lewis over the weekend in Albany and have since spoken to Dion and his representatives about it. They have a good understanding of the serious nature of this matter and understand the embarrassment it caused to not only himself, but the entire organization. Because it is a pending legal matter, we will have no further comment at this point."