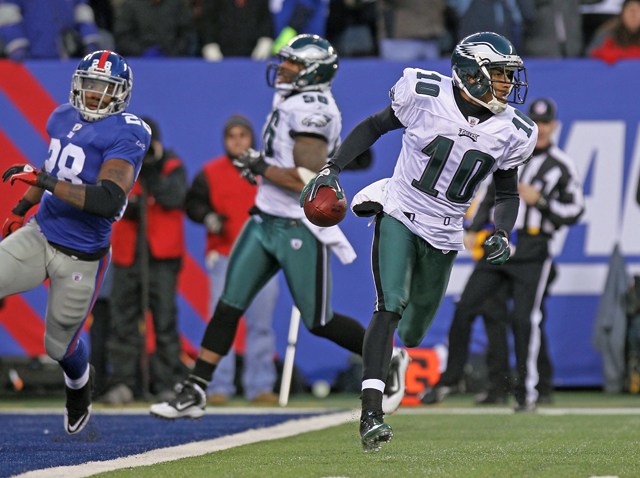 Was DeSean Jackson running out the clock or just showboating?
After the Eagles "New Miracle at the Meadowlands" comeback ended with Jackson's amazing punt return, Andy Reid said that his star returner and wide receiver was simply making sure that there was no time left on the clock when he ran along the mouth of the goal line for a few seconds before going into the end zone.
After such a exhilarating play, no one really wants to counter the notion that Jackson was performing the smart play. But DeSean's history of goal line mishaps and early celebrations is well documented.
However, the truth regarding the final moments of the Giants game is unclear. The only certainty is that running along the goal line was not the smart move. Time had already run out during Jackson's return before he reached the Giants 20 yard-line:
The fact that there was no time left doesn't necessarily mean DeSean meant to showboat -- he could have been looking around for the game clock to confirm that it was over. It does, however, cast some doubt on his motives.
Post game with NBC10's John Clark, Jackson said, "I'm just honored to be in this position, I'm very humble and just living it."
But in his post game press conference, DeSean's story was more complicated: "I try to always do something out of the ordinary, probably would have dove in from the 12-yard line if I could have. I don't know man, I knew it was like 12, 14 seconds left in the game and I don't know if I made it with time still on the clock, so I just wanted to run it along the goal line. I knew nobody was going to catch me, so I like to do some things for excitement and that's what the fans and all the crowd, they pay for that. So I just wanted to bring that out of it."
Could it be a little bit of both -- is Jackson more like the "wise fool" on the Eagles? In the end, it doesn't really matter.
All that counts is that It was one amazing return.