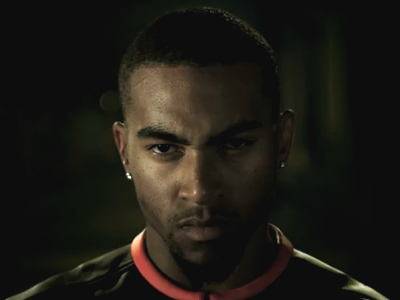 If you haven't noticed yet Eagles star wideout DeSean Jackson has quickly become one of the most recognizable names in the entire NFL.
A large part of D-Jax's popularity is due to his advertising gigs.
He landed a deal with NIKE that has lead to ads like the one where he talked about hummus appearing alongside NBA stars Amar'e Stoudemire and Rajon Rondo. But his latest NIKE commercial focuses on No. 10 and no one else with a singular message:
"Get Fast or Get Forgotten."
DeSean doesn't say anything during the 22-second clip. He merely sits on a motorcycle in full speed biker getup before peeling off into the darkness -- must be like what defensive backs see when No. 10 burns them for a long score.
Cool ad, right?
I'm not sold. Firstly, he looks more like a Power Ranger than a tough guy. Secondly, why is the Eagles weapon wearing Atlanta Falcons red, white and black?
Seriously the ad is totally void of Eagles green.
Likely the NFL didn't approve the ad since Jackson isn't donning anything Eagles. And, hunter green isn't exactly the hardest looking color but neither is a red and white racing stripe.
They could have easily had DeSean in something more Eagles friendly -- something green -- and still had the speedster looks sleek, tough and fast.
Do you agree?