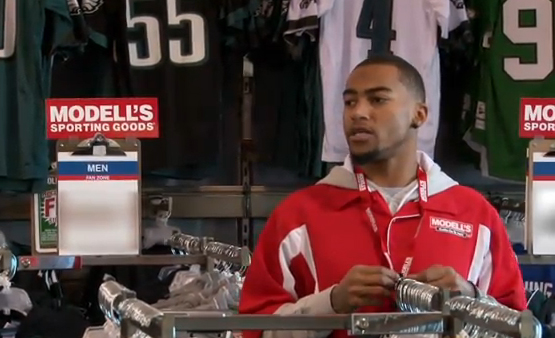 Eagles wideout DeSean Jackson turned in his helmet for a nametag this week.
D-Jax is known for being a bit of a showman so he seemed like the perfect fit to go undercover to see if he could peddle some of his No. 10 jerseys at a local Modell's store.
Unlike last week's GottaGo2Mos YouTube post where Patriots RB Danny Woodhead went mostly unnoticed while selling his jersey in the Boston area, DeSean was recognized by plenty of fans still fired up by Sunday's game.
DeSean tried to sell some of his own jerseys while selling shoppers that he wasn't actually DeSean but rather "D.J." as it said on his nametag. But most of the fans wouldn't buy it.
"Shoot, I wear a football helmet and I still can't trick nobody," DeSean mused at one point.
DeSean looked like he had fun and a good amount of shoppers seemed to enjoy seeing the Eagles star. He also seemed to make a few sales including one to some guy rocking a "Dallas Sux" Eagles jersey.
And it looks like DeSean also realized how much his game-winning punt return looked like something out of Tecmo Super Bowl.
"That punt returned looked like a video game," DeSean said as he pretended to be a regular old Modell's employee. "I was actually on lunch break in the back watching and I was like 'that's just ridiculous -- why did they even punt to him.'"
Giants fans probably feel the same way DeSean.